Puerto Vallarta, Mexico - When you think about organizations that are changing the world, a local-ex-pat bar in the back-end of a tourist town in Mexico is probably not the first thing to come to mind. Surprisingly enough, however, Que?Pasa bar (located on the outskirts of Old Town in Puerto Vallarta) is doing just that - changing the world through environmental education, one Mexican child at a time.
In general, the Bay of Banderas is gorgeous region of Mexico with the charming city of Puerto Vallarta beaming from it's center like the crown-jewel of a coastal tiara. Yet when you set out and explore the more remote rivers and beaches of the area, you'll most likely be shocked by the amount of garbage laying around.
Such was the case with one river in particular, the Rio Cuale, which was especially tragic for those of us who love Vallarta as it divides Old Town Puerto Vallarta from Downtown Puerto Vallarta and is highly visible to visiting tourists.
Fortunately, Que?Pasa, which backs up to the Rio Cuale, has decided enough is enough and is cleaning not only the river but also their neighborhood through what they've come to call La Brigada de la Basura (The Trash Brigade).
La Brigada de la Basura was started on June 20th, 2010 by Michael Hayes, owner and operator of Que?Pasa along with some volunteers from the bar and 16 children (and a few parents) from the neighborhood in which his bar is located.
Each Saturday morning, The Trash Brigade meets at Que?Pasa where Hayes hands out rubber gloves and trash bags to the kids. Together, the group heads out to either the river or the streets of the neighborhood picking up any trash they come across along the way.
Once their bags are full, the children make their way to the back entrance of Que?Pasa where they form a line and wait to have their trash inspected. Motivating children to spend their Saturday morning picking up trash is not an easy task, so Hayes rewards the children who participate with a free hot-dog and chips lunch in exchange for their services. The ticket into lunch is a bag full of trash, and Hayes sticks to his policy - no trash, no hot-dogs.
Since its inception, La Brigada de la Basura has been an overwhelming success. Hayes says he can hardly walk anywhere in Old Town without a local community member stopping him and thanking him for what Que?Pasa has done both for the neighborhood and for its children.
That, according to Hayes, is the overall goal - not just to clean the streets, but to educate the children as to why littering in general is bad not just for their neighborhood but for the world as well. This, however, is where the program is looking for help.
The success of La Brigada de la Basura has attracted a weekly stipend from the benevolent River City ATMs, which helps Que?Pasa pay for the program's supplies and for the lunches, yet what the program is still looking for are Spanish-speaking presenters to speak with the children about eco-topics like the importance of recycling while they eat.
Film maker Esteban Uyarra (who made the video above) feels that the children are eager to learn and that lunch time after clean up is a perfect time to reach them as they are a completely captive audience. Groups interested in presenting the Brigade can contact Que?Pasa on their Facebook Page.
Que?Pasa would like to thank the children of Trash Brigade, the family and community members who help out, River City ATMs, and all the gringos who bring toys down to give to the children over the holidays.
They would also like to spread the word that all are welcome to help out with the weekly clean-ups. Anyone interested in volunteering should be at Que?Pasa by 11:15 am any Saturday morning. Clean ups usually last about an hour, and all helpers also receive free hot dogs as well!
With more volunteers and support, La Brigada de la Basura hopes to increase its efforts and begin destination clean-up trips to the local beaches of Banderas Bay. Puerto Vallarta is a paradise, but it won't stay that way without our help.
---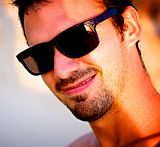 Chase Buckner is a local writer and entrepreneur who moved to Puerto Vallarta in 2009 after leaving the field of Secondary Education to pursue his love of travel and surf. A self-professed "web geek," Chase spends most of his time online running his blog, Simply Vallarta, managing web-media projects for clients of White Bulldog Media (a company of which he is a co-founder), and writing for Banderas News. Chase's accomplishments in blogging have earned him one of 16 spots in the Mexico Today program* - a government sponsored initiative designed to increase positive awareness of Mexico via social media. Of all his work in Mexico, however, Chase is most known for his animated take on the Safety of Mexico, which reflects his affinity for creating outspoken content designed to spark conversation.


*Note - Although Chase Buckner is being compensated for his work for the Mexico Today program (marked by #MexicoToday), all stories and opinions are completely his own.