I'm sitting in the airplane, enjoying a well deserved glass of wine and I am on top of the world. Ok, actually I'm a deck above six street dogs from Puerto Vallarta, Mexico who are travelling with me. They're in kennels in the cargo hold below and have no idea yet how much their lives have changed since the plane lifted off.
For me, there is no experience more rewarding than travelling with a large group of rescued animals bound for a better life than they were offered before. Each had a bad start in life and each has their own painful story to tell. They each deserved a better life, so I volunteered to carry them to their new homes in Canada.
Smiling to myself, I think not just about how happy they will be with their new families, but also about how happy all of us that have rooted for them, cared for them or just followed their story will be when their journey to new families is over.
I try to understand what they have been through, and then I stop myself. I am an animal rescuer, I know how hard and lonely the streets are for an unwanted or abandoned dog. Instead of reflecting on the sadness of their past, I ponder, "What are these little beauties thinking? Do they know what awaits them?"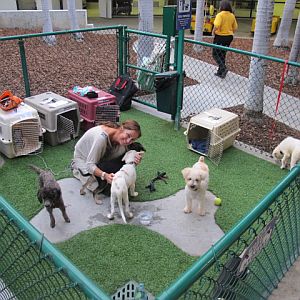 Nicole Martin with 6 MexPups in the LA Airport
They're MexPups, so I know that they have been made healthy, were socialized and loved in a foster home and have a family waiting for them. They don't know what's ahead, but each of these sweet animals' lives have been getting better every day since they've been rescued, so I like to think that they're eager to see what comes next.
I thrive on this, being part of the rescue chain that brings better lives to our furry friends. I jump at every chance to bring each one of them to a loving home. You may wonder why on earth I would take a rescue dog from Mexico to Canada.
Why? There are a significantly larger number of needy animals in Mexico than in Canada, and unfortunately, Mexico's protection of homeless animals is limited by their resources and challenged by the urgency of each animal's situation. Some of the stories about the lives these sweet animals have endured would... well, that's not what this day is about.
Mexico has no established government systems in place to assist the animal population and in Puerto Vallarta, the local Acopio (dog pound) doesn't even have a veterinarian anymore to treat the few dogs their facility can hold.
If, like me, you can't stand to see an animal suffer, please know that even a little help can make a huge difference. In fact, funding, donations and volunteering, by people like you who care, is the only thing that made a difference in the lives of those six MexPups flying with me today.
As our plane flies over California, I recall the short and amazing time I had just spent with the pups in the Los Angeles airport doggy park for pets in transit. What a ball! Even in that brief time, they poured out their unconditional love and gratitude to me, making me feel humbled and blessed by such adoration.
Are they ready for the moist and cold Canadian grass? Are they ready to learn new ways and receive love, toys, great food and feel happy in their new lives? And the new families, what are they thinking? They saw photos showing the pups' progress from when we found them, and some of those little guys were mighty messed up mutts! I know many of the future families were sad and concerned as they patiently waited for foster families in Puerto Vallarta with MexPup's guidance to nurse the pups back to health.
We finally begin our descent into Vancouver and I know it's time for me to let go of their past, because here comes their future! I don't know exactly what it will bring, but having had the honor of meeting these little ones and connecting with their new families I do know one thing for sure... Love is in the air!
If you are interested in carrying an animal to the US or Canada, fostering an animal in need, or can assist with funding for MexPup, please inquire on the website at mexpup.com.
MexPup is not a shelter facility that can take in animals, but an association that facilitates and guides people through the process of rescuing dogs, providing their medical care, foster families, finding them transportation to our partners in Canada, and most of all placing them with loving forever families.
My name is Nicole and I rescue animals. Who are you?