Puerto Vallarta, Mexico - Amazing Asian inspirations will be served at restaurant River Café in Puerto Vallarta, Mexico during the annual Festival Gourmet. The staff welcomes guest Chef Frank Marcoretta, from Boathouse Restaurant in Vancouver, British Columbia. He will become part of the kitchen crew, sharing his recipes and love of good food with everyone working and visiting the restaurant from November 10-20, 2011.
"I'm so excited about my first trip to Puerto Vallarta," says Frank, "I really look forward to this fantastic opportunity to work in another kitchen with a great group of people." He has a passion to play with fresh ingredients and creating new flavor combinations. His travels through South East Asia have greatly influenced his cooking techniques.
Frank fell in love with the food and culture of Thailand. While there, he was given the opportunity to work at Evason Phuket Resort and Spa in Phuket, Thailand in 2003. The company operates resorts in the Maldives and Vietnam and Frank worked as a guest chef at both locations, further emphasizing his Asian influenced palate. In 2007 Frank returned to Vancouver and has been working at Boathouse ever since.
The restaurant is known for its fresh seafood so Frank will feel right at home with the bounty caught in Banderas Bay. His additions to The River Café menu will tantalize all discerning taste buds. Some of his starters include: Thai infused crab cakes with lemon aioli and papaya salsa, West coast nage of miso and coconut made with mussels, prawns, snapper and scallops mixed with cherry tomatoes and asparagus.
Dinner selections include: Pacific fish sampler of sweet chili tuna, Macadamia crusted mahi mahi and swordfish with black pepper sauce and the grilled chicken bowl with snap peas, peppers, and onions in a green curry sauce over Thai jasmine rice. Check the River Café website for all the exotic taste sensations being served during the XVII Festival Gourmet.
Even though Frank currently has an affinity for Thai and Pan Asian flavors, his enthusiasm for cooking goes back to childhood.
Frank was born in Niagara Falls, Canada to Italian parents and began helping out in the kitchen when he was around five years old. He especially remembers making meatballs and gravy on Sundays with his grandmother. At the age of 6 his family moved to White Rock, British Columbia, which is 40 kilometers south of Vancouver and right on the US/Canada border.
In 1994, Frank's culinary journey began through a high school chef training program. During this course he gained valuable work experience at the Boathouse Restaurant located in White Rock. Within a few short weeks he was hired and began an apprenticeship. He quickly moved up into a sous chef position, which he held until November 2003, when he left for the Far East.
After four years in Phuket, Thailand he felt it was time to move back home with his young family. Upon his return to Vancouver, Frank was given the opportunity to become a chef with Boathouse Restaurants. There are seven waterfront locations in British Columbia.
He finds it rewarding to return to the company where his career began. Frank has been heavily involved with menu development for the concept of the restaurants. A new Boathouse location recently opened on Kitsilano Beach in Vancouver, which is one of the best beaches in North America.
Frank likes to say his food is simple, yet flavorful with an Asian influence. And living in Vancouver, with its large Asian population, plus his time spent in Thailand, he feels that he can use his experiences to better relate to his clients' palates.
Chef Marcoretta uses only fresh, local products from fishermen and farmers in the Pacific Northwest and he will also use this same philosophy when preparing his exquisite recipes for everyone visiting The River Café during Puerto Vallarta's XVII Annual Festival Gourmet International, November 10-20, 2011.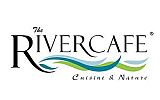 Open daily from 8 am to 11:30 pm, The River Café is located at Isla Rio Cuale #4 in downtown Puerto Vallarta. Reservations are recommended and can be made by calling (322) 223-0788 or online at RiverCafe.com.mx.

Click HERE to learn more about The River Café.