Puerto Vallarta, Mexico - On Tuesday night, November 30, 2011, I attended Los Bambinosĺ opening show at The Palm, my first time at a Bambinosĺs Concert without my beloved "Husband," whom most of you know passed away in July of this year. But Los Bambinos were so resplendent in their sparkling red and black outfits and their voices so truly glorious that with every note and every smile from the guys, whom I think of as my own, the pain assuaged little by little.
After the concert I couldnĺt help but remember all the incredible times Husband and I had with these young men and thought I would resurrect an old article about their beginnings and Husbands entrance into the group from January 2007. So enjoy and see Los Bambinos in concert every Tuesday at the Palm at 7:00 pm.
A Star is Born?
Polly G. Vicars, January 2007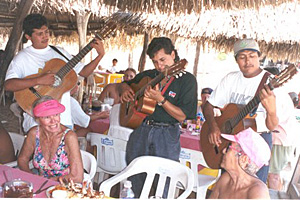 Carlos, Galindo, Jose 10 years ago.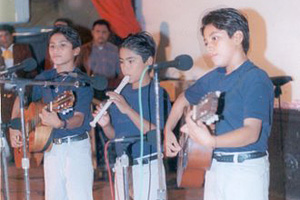 Immer, Giorgio, Lazzaro at their school 10 years ago.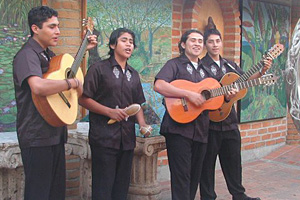 Los Bambinos inaugurate their first album about five years ago.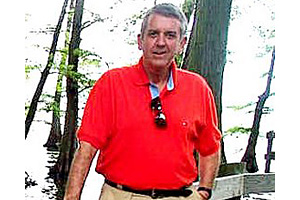 Ed Cannon, The Instigator.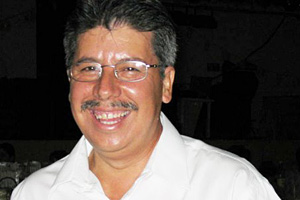 Maestro Melchor Cortes, The Translator.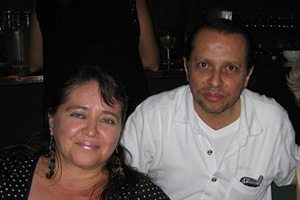 Dr. C & wife at the Concert.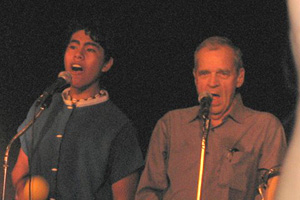 Giorgio and Husband with his own mike.
I have never been accused of being a sophisticated music aficionado. Some have said (although I disagree) that my taste is either plain tacky or non-existent. Even though I can't carry a tune, I really love all types of music and Husband and I have, on occasion, attended the opera (no not the opry,) and symphonies in various cities of the world.
But that does not prevent my being an Oak Ridge Boys devotee, with my special enthusiasm for their rendition of "Elvira," and thus the following story.
About ten years ago we met a young lad, Carlos Morales Salinas, who was singing both solo and with a couple of friends, Galindo and JosÚ, in the restaurants of Vallarta's Romantic Zone and at those beaches that surround our Bay of Banderas.
From the first time we heard him play and sing, we knew his talent was special and we soon became fast friends and ardent supporters. When about five years later he told us he was forming a group with his three younger brothers, Lazzaro, Immer and Giorgio, we were excited. When they sang for us as we dined in the moonlight at our very favorite beachfront restaurant, La Palapa, we truly felt that we were listening to future stars.
The youngest, Giorgio, a plump 13 year old whose voice had not yet changed sang soprano like an angel! Lazzaro and Immer, 16 and 15, shy, slim, handsome young men, harmonized perfectly with older brother Carlos, 23, and "Los Bambinos," the pet name their father had for them, were born! Incidentally, Papa also plays and sings and has encouraged his sons' musical talent all of their young lives.
Soon this group of young musicians was attracting lots of attention in Vallarta. People engaged them for private parties and in the restaurants a song at one table was almost always followed by requests from other tables.
Their repertoire was expanding and I must have mentioned to our good friend Ed Cannon that I wished they could sing my favorite "Elvira." As a surprise for me he gave Carlos a CD of the Oak Ridge Boys' and then enlisted our great friend and Spanish Maestro, Melchor Cortes, to write out the English words phonetically for the guys, who at that time spoke or understood almost no English.
This is how he did it: "Eyes that look like heaven, lips like sherry wine" (└IS DAT LUK LAIK J╚VEN, LIPS LAIK SHERRI U└IN) "That girl can sure enough make my little light shine" (DAT GU╚RL KEN SHUR IN└F M╚IK MAI L╠ROL L└IT SH└IN.)
Everyone, except Husband and I, knew that they were trying to learn "Elvira" in English. Perhaps I should have suspected something at various gatherings when the boys would huddle with Maestro Melchor, but I am always having too good a time to be distracted by such things.
Then, at a party in La Cruz de Huanacaxtle at the home of Gloria and David Bender, Los Bambinos knocked me off my feet when they went from singing all the wonderful Spanish favorites to a rousing performance of, what else, "Elvira!" The guests went wild, as they almost always do to this day when those handsome young Mexican men sing "Elvira," even better (my opinion) than the Oak Ridge Boys.
Several years ago Husband, too, got into the act when "Elvira" was sung. The boys stopped singing to let Husband do the "mow mow" part in the chorus. That has now become a tradition whether in our home, at a private party, in a restaurant filled with strangers or in concert.
Our friends have teased Husband that he should ask for a cut of their earnings and one friend, Judge Tom from Alameda, California, has insisted that Husband should have his own microphone at the concerts.
Wait, it gets better! We had invited Dr. Jaime Casta˝eda and his wife to join us at the Monday Bambino concert. Many may remember that it was Dr. Casta˝eda who actually saved Husband's life and got him well enough to attend that very first Bambino Concert one year ago this month. We thought it was fitting that he accompany us again.
The first question Dr. C. asked was if they would sing "Elvira." When I explained that it wasn't in this year's show he was not very happy to hear that news, but settled in with the rest of us for an absolutely smash performance of Los Bambinos.
We all clapped, swayed and sang along with their versions of the Everly Brothers, the Beatles and the Beach Boys music! We were dancing in our seats to their rhythmic Spanish songs - no matter that we didn't understand the words. And we were thrilled by the soulful original Bambino tunes.
The audience did not want to let them go when the show was at an end. So, to loud yells of "otra" and "more," Los Bambinos re-took the stage and began, of course, "Elvira." They motioned for Husband to join them on stage and this time, gave him his very own microphone!
Usually somewhat of a shrinking violet, Husband acquitted himself professionally and never have the words "mow mow" been sung with such clarity and amplification. Do you wonder that my title of this little vignette is "A Star is Born?" How the kids will get him off the stage in the future is their problem, as I understand the taste of the grease paint is very hard to lose!
Husband continued to sing "Elvira" with the boys up until his death. When his brother and sister and an assortment of close friends motored with me out into the Bay we put his ashes into the waters he had loved, fished, dived and swum for 23 years with Los Bambinos singing "Elvira" for him one last time. He would have loved it!
---

Polly G. Vicars and her late husband, Hubert (a.k.a. "Husband") retired to Puerto Vallarta in 1988 and soon became active members of several charitable organizations. Polly is the author of "Tales of Retirement in Paradise: Life in Puerto Vallarta, Mexico" [a sell-out!] and "More Tales of Retirement in Puerto Vallarta and Around the World." Proceeds from the sale of her books go to the America-Mexico Foundation, a scholarship foundation that is their passion.
Click HERE for more articles by Polly Vicars
, or
click HERE to learn more about Becas Vallarta and the America-Mexico Foundation.