Puerto Vallarta, Mexico - Kim Kuzma, the very popular Canadian singer who has become a favorite here in Vallarta, returns to The Palm Cabaret on December 13, 2011 at 10 pm with shows continuing on Tuesdays and Fridays at 10 pm throughout the season.
Voted Canada's Best Independent Artist by fans at Canadian-music.com and winner of the West Coast Music Award, this international singing sensation continues to win over legions of new fans around the world with each performance.
From Europe to Mexico, Canada to Australia, Kim's highly popular show never fails to astound her audience with her upbeat and sometimes provocative music. She has performed alongside some of the best, including Jennifer Holliday, Sandra Bernhard, Thelma Houston, Cece Peniston, Martha Walsh.
Dugg Simpson of the International Vancouver Folk Festival sums her up best: "Kim is one of those rare people who seems to have been born for the stage. She brings to it a terrific energy, a great voice and a real respect and affection for the audience."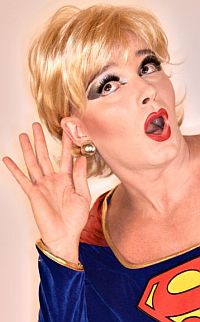 Also arriving this month, Vallarta's "Gal with a Gazillion Voices," Joanna!, returns with a show at 10 pm Wednesday, December 14, 2011 and continuing on Mondays at 8 pm and Wednesdays at 10 pm throughout the season.
Joanna (aka Joe) is well-known in Vallarta and the USA for his comedic, live-vocal parodies of Madonna, Cher, Adele, Patsy Cline, Tina Turner, Barbra Streisand, Judy Garland, Lady Gaga, Sarah Palin, Janis Joplin, Karen Carpenter, Stevie Nicks, and Cyndi Lauper among others.
His standing-room only crowds last season mean you'll need to reserve early this year. The Florida Sun-Sentinel says of Joanna's show: "Beyond Impressions, Parody, and Burlesque" and The New York Times proclaims Joanna, "One of the Best!"
Tickets for Kim Kuzma, Joanna! and all other Palm shows can be purchased in advance at ThePalmPV.com.
The Palm is located at Olas Altas #508, just two doors south of La Piazzetta Restaurant on the South side of Puerto Vallarta. You can also find The Palm on Facebook at The Palm Cabaret and Bar. You may also phone the club at (322) 222-0277 starting at 6 pm nightly.