Puerto Vallarta, Mexico - The 40th Anniversary celebration at Daiquiri Dick's restaurant in Puerto Vallarta, Mexico. A very merry dinner menu for two days.
The tropical Christmas spirit kicks off on Christmas Eve, Saturday December 24, 2011 starting at 5:30 pm. Los Muertos Beach is the scene for a wonderful evening with family and friends. The menu includes:
Starters:
• Traditional Oaxacan Green Pozole with Duck - $95 pesos
• Caramelized Pears with Blue Cheese and Honey-Roasted Almonds over Arugula with a Honey Vinaigrette - $85
Main Course Choices:
• Corn Bread and Chorizo Stuffed Turkey Breast with Mole Poblano Sauce over pureé of plantain - $215 pesos
• Grilled Beef Medallions with Demi-Glace over garlic mashed potatoes, sautéed chard and mushrooms - $265
• Spaghetti 'Frutti di Mare' with clams, mussels and shrimp in a marinara sauce - $195
Dessert
• Coconut Flan - $85
The regular a la carte menu will also be available. Reservations are highly recommended.
December 25, 2011
Spend Christmas Day with family and friends and then enjoy a fabulous dinner on the beach. A warm weather holiday along with special menu items starting at 5:30 pm.
Starters:
• Bouillabaisse with Clams, Mussels, Crab and Shrimp - $125 pesos
• Persimmon and Pomegranate Salad with Warm Goat Cheese and a red wine vinaigrette - $95
Main Course Choices:
• Traditional Turkey Dinner with all the Trimmings - $245 pesos
• Herb Crusted Rack of Pork with Port Demi-Glace over pureed sweet potato - $275
• Spaghetti a la Bolognese - $185
Dessert
• Eggnog Cheese Cake with Pomegranate Glaze $95
The regular a la carte menu will also be available. Reservations are highly recommended.
Two nights of exquisite holiday dining at Daiquiri Dick's, a staple of the Puerto Vallarta dining scene. The staff invites you to be part of their family during this festive time of year.
Open daily from 8:30 am to 11 pm, Daiquiri Dick's offers elegant dining in a relaxed atmosphere for breakfast, lunch or dinner. (Closed on Tuesdays and the month of September.) Visa, MasterCard and Banamex accepted. Reservations are recommended.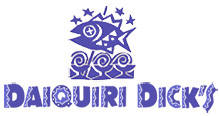 Daiquiri Dick's contemporary design exudes a quiet elegance that invites relaxation, and its tropical location at Olas Altas 314 on Los Muertos Beach offers the perfect atmosphere for enjoying spectacular views of Banderas Bay. For reservations call (322) 222-0566. For more information, visit DDPV.com.
Click HERE to read more about Daiquiri Dick's.