Puerto Vallarta, Mexico - Find your forever tree at Banderas Bay Trading Company. The hand punched tin is a true treasure of Mexico and a tradition which started in San Miguel de Allende. The intricate metal work has a long history, and some of the artisan families have been in the business for over 80 years.
Ornaments and other holiday items have always been popular, especially the stars, which can be seen all over the area at any time of the year.
The trees are a fairly recent addition. They are available in a variety of sizes with multi-colored glass beads. All are hand made, so no two are exactly alike.
Light up your holidays - or any day - with a flashy tree from Banderas Bay Trading Company.
If you still haven't decorated your home for the holidays, be sure to stop in Banderas Bay Trading Company and check out their selection of Christmas ornaments during this week's South Side Shuffle. The fiesta hits the streets every other Friday from 6-10 pm, so come on out and enjoy cocktails, live music, and "Shuffling" between the 11 participating businesses on Puerto Vallarta's South side.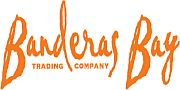 Located at Constitución #319 A, Banderas Bay Trading Company is open every Monday through Saturday from 10 am to 6 pm. BBTC offers high-quality artesanal works that have made it one of Vallarta's favorite places to shop for Mexican art, collectibles and home decor. For more information click HERE, or visit BanderasBayTradingCompany.com.