Puerto Vallarta, Mexico - Well, folks, to begin with, I gotta say that our first Charity Bingo event benefiting Discapacitados Visuales de la Bahía – a local charity that helps blind people, was amazing. We had a wonderful turn-out... 84 people braved the downtown traffic jams, detours and hard-to-find parking. Thank you all for coming. You helped to make the evening a roaring success. And, what an interesting evening it was... am I right?
Let's get to it. Sean Moore of Nacho Daddy, our beloved guest caller, coined a new word for us. How's this... "BINGOLATION." Love it!
The evening started out almost like any other. We ate, we drank, and we greeted friends, old and new. Tim, Carole and Robin worked the room selling Bingo cards (necessary items if one really wants to get into the game), 50/50 and BIG Raffle tickets. Several representatives from our charity arrived and sat in the front of the restaurant. It was great to have them participate. Some were visually impaired, some not. Two beautiful young women dressed in colorful, traditional garb accompanied them.
Then, Sean ramped it up. Bingolation! He started calling the letters and numbers. Game 1 was won by Rosalie Elliot. The beautiful women delivered the gift bag and posed for a picture with the lucky winner. Game 2 was won by Rhonda Angelo. Same prize delivery system. How nice is that? The famous and fabulous Bill Kelly won Game 3 and Michelle Mayer won Game 4.
Now, ordinarily, we have halftime after Game 4, cause we're halfway through. See how that works? This was the second time that Sean decided to have halftime after Game 5, which, by the way, was won by our own Dennis Smith. Dennis is a lucky guy. We'd had a fake Bingo during Game 5. Like the automaton I am, I cleared one card. No way to recover. Really, I must pay better attention.
It's halftime. A hush did not come over the crowd... not yet. We ordered more drinks and food, bought a few more raffle tickets, talked, laughed. I complained about the unlucky cards I'd drawn. Oh, well.
Now, a hush came over the crowd as a lovely young lady, Graciela Ruiz, began to play her keyboard for us. She played Cielito Lindo and Fur Elise. Graciela is extremely talented and her audience was enthralled. Then, Tim and several helpers distributed blindfolds to each of us. The idea was for us to experience how the visually impaired feel and hear the world around them. Once our blindfolds were in place, two more musicians took the stage... Edgar Gil on guitar, who sang Los Laureles and El Sinaloense, accompanied by Antonio Morales playing the accordion.
Listening to the beautiful music in the dark without distractions was an amazing experience, at least for me. Tim mentioned to me later that he was surprised at how many people were unable to keep their blindfolds in place throughout the performance. I can understand that some might feel just a little uncomfortable, perhaps even claustrophobic. Muchas gracias to all of the musicians and participants from Discapacitados Visuales de la Bahía. I believe that many of us learned a valuable lesson from this demonstration.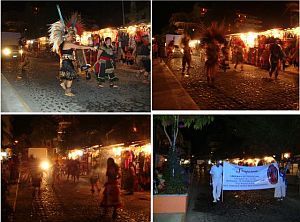 Once again ...BINGOLATION. Game 6 was under way. Several numbers into the game, the street in front of Nacho Daddy erupted into an Aztec dance routine. Drums, rattles, conch... no less than eight plumed dancers twirled and galloped up Basilio Badillo, leading a more traditional posada musical group, followed by families processing their way to Cathedral de Guadalupe. I'm thinking Sean didn't hear the commotion, but many of us were so engrossed in watching the parade, we missed a whole bunch of numbers. Finally, Sean stopped calling, the parade passed by and we began Game 6 anew. Sean kindly summarized the numbers that had already been called. Jim Raad was the lucky winner of the game.
On to Game 7, then, which had three winners: Kerry Leathers, John McKwen, and Judy Raad. Hmmm... do you think Judy is related to Jim?
It was time to announce the winners of the 50/50 raffle and the BIG Raffle, namely Patti Rock who won $1,825 and generously donated it back to the cause and Tik Thurston, who was the proud winner of the BIG Raffle Action Package including a boat trip from Pegaso Tours, a one night stay at Casa Isabele, a canopy tour compliments of, ta daa, Canopy Tours and ... and (2) Cheeky Monkey T-Shirts! What an amazing prize.
Game 8, the big ol' blackout bingo was won by none other than Dennis Schran.
Congratulations to all our winners!
An interesting coincidence... the total collected for the evening – $12,700 pesos - is the same amount collected the previous game, including the 50/50 raffle amount. Very interesting. Very interesting, indeed.
As usual, there are so many people who must be acknowledged, for without them, Charity Bingo just wouldn't be possible. Tim from PVRPV, Charlotte and Carole from Xocodiva Artisan Chocolates, Lori from Rio Amapas-Private Luxury Residences, Sean Moore and Nacho Daddy, Oscar and Robin and any other volunteers I might have missed. Thank you all so much for all your hard work. The prize bags are just full of amazing gifts and services from so many wonderful businesses in Puerto Vallarta. Charity Bingo is truly a community project.
Okay. Don't forget... Charity Bingo's last event for Discapacitados Visuales will be held on Tuesday, December 20 at 6:30 at Nacho Daddy. Bring something from the wish list and/or a brand new player and you will receive a FREE bingo card.
Signing off until then.

If you are planning a dream vacation in beautiful Puerto Vallarta, Mexico, look no further than PVRPV. Representing the highest quality vacation accommodations in the Banderas Bay area, PVRPV is your experienced and reliable choice for Puerto Vallarta home, villa and condo rentals and rental property management. In addition to providing visitors with affordable vacation rentals, PVRPV has a longstanding commitment to giving back to this wonderful community we call home. To learn more, check out the PVRPV Blog. For more information about PVRPV's vacation rental services click HERE, or visit PVRPV.com.