Puerto Vallarta, Mexico - Puerto Vallarta based interior designers from CRATE Interiors unveiled two new model show suites at the Grand Opening of V399 Condominiums this month. The Grand Opening Party was held on Friday, 13 January 2012 and hosted on the property's spectacular rooftop terrace. From there, guests enjoyed the dramatic 360 degree views of the Bay of Banderas, delicious canapés and a hosted pool bar.
Guests were treated to the first look at the one and two bedroom models designed by CRATE Interiors. Both show suites were inspired by a unique, vintage chandelier found at a flea market. The design team matched Sherwin Williams paint colors from the jewel-toned crystals to create eye-popping accent walls in each unit.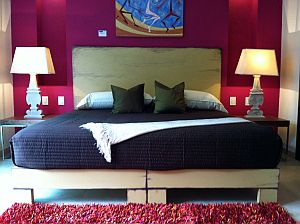 Response was overwhelmingly positive: "I've just come out of a long neutral grey and lilac phase," offered a former Rivera Molino resident. "This is just a breathe of fresh air... so happy!" she proclaimed.
Working closely with V399 developers, CRATE Interiors selected furnishings predominantly from their Tropical Luxe Collection for the two-bedroom model. Comfortable, overstuffed wicker seating in the livingroom pairs well with a reclaimed wood trestle table in the eat-in kitchen and custom-designed beds in a brightly painted distressed finish developed specifically for the property.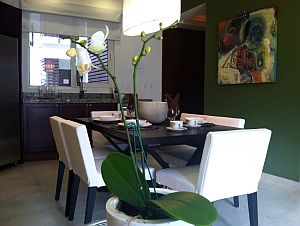 The one-bedroom model features a more contemporary spin with an Italian-style X base dining table, white slip-covered chairs and an elegant pleated box chandelier - all pulled from the design firm's Modern Urbanite décor theme.
"This collaboration was an absolute pleasure," reveals Debra Stevenson, president of Marketing and Sales for CRATE Interiors. "The architecture of this property is truly Transitional and delivers the exact pricepoint, quality and style that homebuyers crave today. We enjoyed creating a hybrid style of Contemporary Mexican meets Metropolitan for V399."
Gary Thompson of Galeria Pacifico curated an art selection of paintings and mixed media that hangs in both models. Works from renowned local artists like Brewster Brockmann are on display and available for sale through the design firm or the art gallery. Thompson is an expert on Mexican Contemporary Art, leads the weekly Sculpture Tour of the newly renovated Malecon and participates in Puerto Vallarta's Art Walk.
About V399: V399 is the latest Puerto Vallarta condominium project by seasoned builders Carlos Vazquez and David Herman. Previously responsible for the development and success of Las Vistas Condominiums, David and Carlos have again combined efforts and expertise to found and launch Grupo HEVA; the development team responsible for V399. Click HERE to read the full story.
About Applegate Realty: The oldest and most reputable Real Estate Company in Puerto Vallarta. Founded by Teresa & Bernard Applegate in the early 1960's, pioneers in the residential development of the area, most notably the prestigious Conchas Chinas neighborhood. The company is now owned and operated by Moray Applegate, a pioneer for the new Millennium. The V399 project is represented by Sarah Elengorn.
About CRATE INTERIORS: The ultimate furnishings solution for homebuyers, rental property owners and developers in Mexico, CRATE Interiors has been relocating homebuyers to Mexico for over 6 years. Recognized for professionalism and expertise, CRATE offers the only truly turn-key décor service in the region - right down to the dishes, sheets and towels. A far better value than shopping on your own, the design firm delivers and White Glove Installs in about 8 weeks. Now, that's a CRATE idea!
---

CRATE Interiors offers the only fully turn-key interior décor service in Puerto Vallarta, Mexico, representing the widest selection of home furnishings in the Banderas Bay region. For inquiries regarding the CRATE design service, please email info@crateinteriors.com. For portfolio and testimonials, visit CRATEinteriors.com.

Click HERE to read more about CRATE Interiors.