Puerto Vallarta, Mexico - Now in itsí third season, the Old Town Farmers Market provides local fresh farm produce, artisan foods, handmade crafts, jewelry, clothing, community education and live entertainment to locals and tourists from the entire Bay of Banderas region. Here's a sampling of what you'll find there...
Tamal Gourmet: One hears nothing but rave reviews from returning customers at Adrianaís table. These are not your grandmotherís tamales! Tamal Gourmet is located within the entrance to the El Jardin de Ninos Emiliano Zapata school on Vallarta's South side.
Adriana specializes in what she calls a fusion of pre-Hispanic and contemporary cuisine. Her tamales are not made with lard, but with butter or olive oil and fresh corn meal, making them light and airy, perfect as a side dish or light meal.
A sampling of her menu included tamales stuffed with spinach and pine nuts, or with Mahi Mahi, organic dill, almonds and capers, and something called "The Mexican Muffin," a chocolate tamale with walnuts and cranberries. You can contact her via email adrianabasail(at)gmail.com or phone 322-779-8037 or 322-225-0997.
Original Friends is a must visit for children of all ages, and doll collectors in particular. These one of a kind dolls are made by a wonderful woman with an interesting story to tell. Rebecca Roth had been wrongfully imprisoned here in Guadalajara, and while there she began to develop her craft. Stop by her table and see the wonderful creations she calls her "Ambassadors of Liberty and Justice."
Each doll takes Rebecca 2-3 days on average to create, using various materials such as ribbons, lace, sequins, etc. While there you can pick up a reprint of an article that provides more background information on this extraordinary story.
You can contact her via emails originalfriendsdolls(at)gmail.com or by phone 331-238-3099.
More about the market...
In keeping with the philosophy of "make it, bake it, grow it," the Old Town Farmers Market- Tianguis Cultural is "a producer only" Market - all the products are made, baked, grown and sold by Vendors, all whom live within 50 kilometers of Puerto Vallarta.
Stop by the Market info booth located on the corner of Pino Suarez and B. Badillo and purchase a raffle ticket for a chance to win a generous basket of products donated by the various vendors. Bring a donation of school supplies and receive a free ticket to the raffle. All proceeds from the raffle go toward projects to help the school.
The Old Town Farmers Market - Tianguis Cultural has fast become one of Puerto Vallarta's most compelling weekend attractions where you can meet new friends, say hello to old ones, talk directly to the producers, buy great products, support the local economy and take part in activities for the whole family.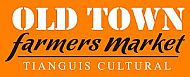 The Old Town Farmers Market-Tianguis Cultural is located on Calle Pino Suarez and inside the El Jardin de Ninos Emiliano Zapata, between V. Carranza and B. Badillo. We invite you to visit us every Saturday from November to May between 9:30 am and 2 pm. Plenty of parking is available across the street in the Lazaro Cardenas parkade. For more information, visit the Market website at OldTownFM.com, or its Facebook page: Old Town Farmerís Market Puerto Vallarta.

Click HERE to learn more about the Puerto Vallarta Old Town Farmers' Market.