Puerto Vallarta, Mexico - Our friends at Pacific Paddle Surf are hosting a fun race series of SUP (Stand Up Paddle) in the Bay of Banderas and asked us to join them! This event is open to the public – there will be SUP events for all ages and ability levels, Paddle Board demos, and certified instructors on hand to introduce you to SUP!
Fantastic prizes from event sponsors – GoPro, Surftech, Peace and Pacific Paddle will be awarded each Sunday to the following classes:
SUP Fun Relay • Sprint Race MEN • Sprint Race WOMEN • Distance Race MEN • Distance Race WOMEN
The first Race Sunday took place on December 11, 2011 - but there are four more Race Sundays scheduled to take place from January 15 – February 26, 2012.
A championship format for the Elite Sprints and Distance Race will award accumulating points for the 5 race days. On February 26, the Paddle for Peace Champion Man and Woman will be awarded new Surftech SUP Boards and Paddles. So show up for all the races - and GOOD LUCK!
Race #2: Sunday Jan 15th, 2012 - Etc Beach Club, Nuevo Vallarta
Race #3: Sunday Jan 29th - Bucerνas
Race #4: Sunday Feb 12th - Punta de Mita
Race #5: Gran Finale - TBA
Elite SUP Sprint race – This exiting race will take the racers from a Gran Prix beach start through a short 500 meter course marked by buoys. 3km Paddle
SUP Fun Relay Race – Teams of 5 people will share one SUP Board and Paddle, One by One the team will navigate a very short, 200 meter paddle. Send an email to afiner(at)mac.com to register your team and reserve one of 15 Demo boards – free of charge!
Beginners and first timers welcome! All proceeds from this event go to Peace Mexico.
---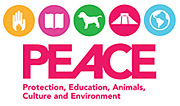 PEACE, (Protection, Education, Animals, Culture, Environment) established in 2005, is a 501(c) 3 nonprofit organization made up of three main programs which focus on education, animal well-being, and environmental protection in the Bay of Banderas, Nayarit, Mexico. PEACE works hand-in-hand with communities in Mexico to provide holistic education, combined with community action programs that enable people to improve their quality of life as well as their financial stability.


For more information, visit PeaceMexico.org, or click HERE to read more about PEACE.