Puerto Vallarta, Mexico - David Lyons has been a resident of Puerto Vallarta for more years than he likes to count he says, adding, "They've been great, but they sure have flown." He admits to being influenced by Ernest Hemingway in seeking a tropical setting for his writing.
After years of effort and several 'near misses' in the publishing business, Lyons is looking forward to the release of his novel Ice Fire on May 1st. His publisher is Atria/Emily Bestler Books, a division of Simon & Schuster.
Lyons gives much credit to the Puerto Vallarta Writers Group for his achievement. "For over a decade, I rarely missed a meeting and never missed an opportunity to read whatever I was working on. I received a lot of support from that group." He also met there the persons who introduced his book to his publisher. And the rest, as they say...
He admits to getting the idea for the plot from a geophysicist visiting Puerto Vallarta who told him about a unique source of energy found on the ocean floor, an ice that flames when lit, hence the title.
We wish David much success with his novel Ice Fire, the first in a series of thrillers introducing Federal Judge Jock Boucher as the principal character with New Orleans as the setting. Why New Orleans? "My wife lived in New Orleans," he says, "and she's my number one fact checker. I love the town, its color, cuisine and history. It plays as much a role in the novel as any of the characters. In fact, I thought of putting a warning on the book cover - 'Reading Ice Fire may make you want to run out and buy a beignet.'"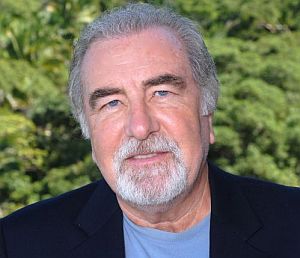 A long-time resident of Puerto Vallarta, retired International lawyer R.D. (David) Lyons is an author and singer of jazz standards who performs periodically around Banderas Bay.
By the way, the novel ends in Puerto Vallarta and several advance readers have noted it would make a great movie. Look out for the film crews. Following is the synopsis as printed on the jacket cover of Ice Fire, to give you an idea of the fast-moving plot.
In this explosive debut thriller by author David Lyons, Jock Boucher, a U.S. District Judge from the Louisiana bayou, confronts one of the most powerful energy companies in the world. Ice Fire follows Boucher as he fights to expose the secrets of a company on the verge of causing an ecological disaster. Cajun-born Jock Boucher has overcome modest beginnings to assume the prestigious position of U.S. District Judge of the Eastern District of Louisiana. One of his first cases on the bench involves a scientist who has been hiding in mortal fear for over twenty years.
The fugitive claims that another judge accepted bribes and helped a relentless global energy company steal his intellectual property: a way to recover energy from below the sub sea bed that could end America's dependence on foreign oil.
Boucher takes on the company and its powerful founder, risking not only his judicial career, but his life. He follows a trail of cryptic clues to the bottom of the ocean, and soon finds himself the target of killers—and too far from the law to ever return.
Packed with suspense, science, politics, and murder, this fast-paced, riveting thriller will have readers on the edge of their seats. Ice Fire is the first in a series offered by this authentic new talent.
Initial reviews have been excellent. Here are just a few:
"There's action, budding romance, a bit of dry humor, and a plunge into New Orleans/Cajun culture. High society to Zydeco icehouse bars, Lyons covers the gamut. This should be a series worth following." — Suspense Magazine
"From David Lyons comes Ice Fire, a novel with almost clairvoyant timing, a fascinating plot and complex characters. It hits with style and power like the judge's hammer coming down at the end of a case." — New York Times bestselling author, Graham Brown
"David Lyons delivers a perfect blend of technology, plot, and character in a suspenseful and rewarding story that kept me wanting more. I look forward to more stories from this exciting new talent." — Andrew Peterson, author of Forced to Kill
"There's a new advocate on the John Grisham legal thriller circuit with the introduction by ex-lawyer David Lyons of Jock Boucher, an unconventional law-bending Louisiana District judge. Jock exposes murder, intellectual property theft and the corporate corruption that threatens ecological disaster." — Brian Freemantle, author of Red Star Rising
Again, Puerto Vallarta wishes David the very best with his exciting new venture.