Puerto Vallarta, Mexico – Continuing in the promotion of the real estate and mortgage industry in Mexico, Terence L Reilly, CEO of MEXLend, conducted a seminar for the 2012 International Living Conference at the Cancun Marriott Casa Magna. Three hundred and fifty attendees from all over the world attended to learn more about retiring and living abroad from their native countries.
Mr. Reilly's seminar, entitled Financing Your Dream in Mexico, is one of the latest efforts made by his company to inform foreigners that mortgages ARE available for them in Mexico. "Some people are still not aware that financing in Mexico is a possibility. Others are under the misconception that once Compass Bank left the market that there were no loans available for US and Canadian citizens purchasing their Mexican dream homes. This is just not true," stated Reilly.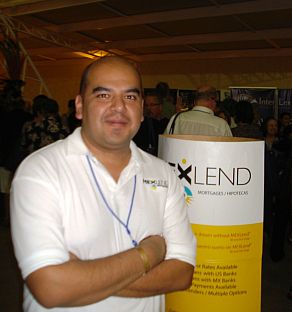 Omar David Palma Canales at the International Living Conference in Cancun
In addition to speaking at the conference, Mr. Reilly and his associate, Omar David Palma Canales, met with local banking representatives, realtors and developers to gauge the market situation. Holding true to the pattern across the Mexican resort areas, lower-priced properties continue to sell briskly, while those above $350,000 are taking longer to move.
"Projects such as Sian Ka an and Tao in Tulum offer such value, that Americans and Canadians brush aside any concerns about buying in Mexico. The clients are here and discovering first-hand that the news reports are overblown and are local issues that do not pertain to these particular areas," Palma said.
Mr. Reilly added, "We are also seeing a huge increase in Mexican purchases using mortgages. This has been a slow build, but once the Mexican population realizes how to leverage to increase their wealth, it will be a boon to real estate sales across the country. Obtaining a mortgage in Mexico can seem daunting, and the banks seem formidable with red tape, but using a brokerage such as MEXLend cuts through all of that confusion. In addition, there is no extra charge to the client. They can call the broker and have access to every bank in Mexico, without ever having to leave their home."
Despite any dire predictions, Mexico still remains one of the top choices for foreign investment and the macro economy continues to outperform the US, which makes conditions perfect for Mexican nationals to realize their dreams of owning a home.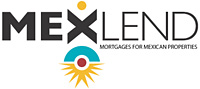 MEXLend can offer their award-winning services and multiple-loan options for purchasing property in any city, town or resort area throughout Mexico – in US Dollars, Pesos and Euros. SPECIAL NOTE: MEXLend is offering their Pesos loans free of service fees. Contact MEXLend today to find out more. To discover which one of the many loan options that MEXLend offers is right for you, visit MexLend.com (for US Dollar or Euro loans) or MexLend.com.mx (For MX Peso loans), call (322) 222-7377 in Vallarta, toll-free at 1.800.3.Mi.Casa in Mexico or (917) 779-9061 from the US or Canada.

Click HERE to learn more about MEXLend Mortgages for Mexico.