Puerto Vallarta, Mexico - Around the world in about 80 days. It's time to take your taste buds traveling during the Summer Sizzle at Daiquiri Dick's Restaurant on Playa Los Muertos in Puerto Vallarta.
No need to pack your bags just pack your pesos. There's three creative courses for only $299 pesos and choices for each course, which includes an appetizer, entrée and dessert. Plus sip on the sensational Summer Sizzle complimentary beverage.
The event kicks off showcasing world flavors, just a little taste of what's to come. The Summer Sizzle starts on Wednesday June 6, 2012 and dinner is served from 5:30 to 11 pm.
Flavors from Around the World
June 6th through 11th
Appetizers
• White Bean Ragout & Focaccia - white bean ragout with red bell pepper, garlic, tomato paste
• Sinaloa Style Agua Chile with Corn Tostadas and Sesame Seeds
• Mixed Green with Housemade Duck Sausage and Cranberry Vinaigrette
Entrées
• One half Cornish Game Hen, wrapped in Serrano Ham and served over Polenta with a Rosemary Marsala Wine Sauce
• Japanese style Mahi Mahi with Dashi, served over Steamed Japanese Rice and Julienne Vegetables
• Rigatoni with Italian Sausage in a Sun Dried Tomato Sauce with Fresh Basil
Desserts
• Blackberry Cobbler a la Mode
• Hazelnut Gelato with Biscotti
• Coconut Créme Brulée
The special menu changes every Wednesday until August 31, 2012. Delicious destinations on this journey include tantalizing Turkey, exotic Istanbul and Pan-Asian medleys. There will be select countries in Western Europe, where comfort food has gone creative, and the lively seasonings of Latin America will produce mouthwatering results.
Stay tuned for the itinerary because you won't want to miss any stops. Think of it as a vacation without ever having to leave home.
Daiquiri Dick's, an exceptional experience.
Open daily from 9 am to 11 pm, Daiquiri Dick's offers elegant dining in a relaxed atmosphere for breakfast, lunch or dinner. (Closed on Tuesdays through October.) Visa, MasterCard and Banamex accepted. Reservations are recommended and can be made at DDPV.com.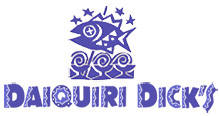 Daiquiri Dick's contemporary design exudes a quiet elegance that invites relaxation, and its tropical location at Olas Altas 314 on Los Muertos Beach offers the perfect atmosphere for enjoying spectacular views of Banderas Bay. For reservations call (322) 222-0566. For more information, visit DDPV.com.
Click HERE to read more about Daiquiri Dick's.