La Cruz de Huanacaxtle, Mexico - A Taste of La Cruz, "Wine, Food & More" will take place in the Main Plaza (Plaza Benito Juarez) of La Cruz on July 21st, 2012 from 7:00 to 10:00 pm. This event, coordinated with Marina Riviera Nayarit, La Cruz Business Group, and InsideLaCruz.com, will once again feature all of the businesses of La Cruz, highlighting the diversity of services, retailers, restaurants and musicians in the quaint village that has been called the "crown jewel" of the Riviera Nayarit.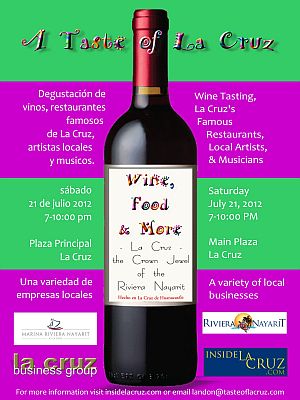 Last January's first ever 'Taste of La Cruz' was a runaway hit, attracting over a thousand visitors to Marina Riviera Nayarit, where they enjoyed the expo, fun, food and music. This July installment has been developed for the less hectic summer pace and La Cruz's main plaza is the perfect place to gather on a warm summer evening to once again partake in the festivities. Enjoy a stroll through the newly renovated Plaza Benito Juarez and enjoy the people, the music, the food and atmosphere of the REAL Mexico, La Cruz style.
A special highlight of this summer edition of A Taste of La Cruz, "Wine, Food & More" will be the option for wine sampling and a wine/food pairing offered by select restaurants. In addition to the incredible local and international food offerings, artists and craftsmen of the Cooperativo Huanacaxtle will offer handmade arts & crafts, local businesses will be on hand to explain their services, and La Cruz musicians will fill the night with tunes.
Two different television crews will be on hand, one gathering footage and the other broadcasting live! This is sure to make the atmosphere even MORE festive! So, relish the music, be enchanted by the amazing arts, have a delectable sip, and truly savor A Taste of La Cruz.
Net proceeds of this event will go to the operating fund of the Work For Food program in La Cruz. For more information, visit
InsideLaCruz.com
or email landon(at)tasteoflacruz.com.