Puerto Vallarta, Mexico - The temporary suspension of US dollar loan programs for US and Canadian Citizens means that existing and emerging Mexican Peso mortgage programs make more sense for foreign buyers. Mexlend continues to work with our lenders in developing and refining their programs to better service our clients.
Here are a few reasons why these Peso Mortgages are now much more attractive:
Lower Down Payments
It is true that interest rates are higher (9.99% to 13.4%) but then they are balanced with a much higher possible LTVs of up to 90%. This means that qualified clients can get into a property for as little as 10% down payment!
Lower Closing Costs
The closing costs are lower with these loans since broker fees are much lower or non-existent.
No Pre Payment Penalties
Unlike their US dollar counterparts, there are NO pre payment penalties.
The Continuing Strength of the US and Canadian Dollars
In these strange economic times, the US dollar continues to defy the odds and gain in strength. This means that the higher interest rates could most likely be offset by continuing favorable exchange rates as the dollars keep out pacing the Peso.
More Options for Financing
• Purchase — loans available for the purchase of homes, condos and lots
• Cash Out Refinancing – with up to 85% LTV!
• Remodeling Loans — just get enough to put in that kitchen you always wanted
Lower Minimum Loans Available
The minimum loan amount is $300,000 pesos. This means more borrowers will be eligible.
Since mortgages for Mexican properties are becoming more of the norm, it is imperative for each and every potential buyer to know the intricacies of the mortgage process. Puerto Vallarta-based MEXLend is taking the lead in educating potential US and Canadian buyers about the ins and outs of securing a mortgage for Mexican properties.
As an industry-leading mortgage broker in Mexico, MEXLend is not limited to mortgages and loans for Puerto Vallarta, as they can offer their award-winning services and multiple-loan options for purchasing property in any city, town or resort area throughout Mexico.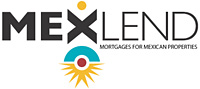 Are you looking to purchase vacation or investment property in Mexico? To discover which one of the Mexican Peso mortgage loan options that MEXLend offers is right for you, visit MexLend.com or MexLend.com.mx, call (322) 222-7377 in Vallarta, toll-free at 1.800.3.Mi.Casa in Mexico or (917) 779-9061 from the US or Canada.
To learn more about MEXlend, click HERE.