Puerto Vallarta, Mexico - A rich, colorful, and incredibly unique use of flavors, Mexican cuisine is considered one of the most varied in the world, along with Chinese and Indian. And this week you can sample some of Mexico's authentic tastes during the Summer Sizzle at Daiquiri Dick's restaurant on Playa de Los Muertos.
The Summer Sizzle features a different country each week through August 31st, and this week Mexico is featured on the special three course menu that offers you a choice of appetizer, entrée and dessert, plus a complimentary beverage, all for just $299 pesos.
The history of Mexican food is long and diverse. It has evolved through thousands of years of blending indigenous cultures, regional differences and European elements.
Around 400 BC, the Mayans first appeared and are believed to be the first group to influence Mexican food. They were hunters and gatherers, and their meals included raccoons, deer, rabbits, armadillos, rattle snakes, iguanas, spider monkeys, pigeons, turtles, frogs, turkeys, and even several insects. Other accompaniments included tropical fruits and corn tortillas with bean paste, and these are still eaten today.
Starting in the 14th century, the Aztec Empire continued to use the Mayan food staples, but chili peppers, honey, salt and chocolate were included in the recipes. Corn products continued to develop, like tamales and adding corn to various flour preparations, and many more herbs and mushrooms were being used.
In 1521, Spain invaded Mexico. Spanish foods have had the most influence on Mexican cuisine. The soldiers introduced rice, beef, pork, chicken, wine and onions. They brought dairy products, garlic plus many different herbs and spices. These were mixed with the native foods including tomatoes, beans, chocolate, corn, vanilla, avocado, papaya, pineapple, chili peppers, squash, sweet potato, peanuts, fish and turkey.
Spanish influences led to the emergence of dishes such as lomo en adobo (pork loin in a spicy sauce), chile rellenos (large, mild-flavored chilies stuffed with cheese, beef or pork) quesadillas and the very popular guacamole.
Later, when the French occupied Mexico during the 1860s, they introduced a wide variety of baked goods. Sweet breads and bolillos are some of the examples of the French influence. It is believed that the French cooking techniques along with the Mexican ingredients made for excellent creations. Native Mexican ingredients, like squash blossoms and avocados, were just perfect for the French style mousse, crepes and soups. It was at this time that the Mexican people also saw the assimilation of many other cuisines, including Caribbean, South American, West African and Portuguese.
All of these diverse cooking styles and ingredients make up the varied tastes, colorful plates and interesting combinations of Mexican cuisine. The chefs at Daiquiri Dick's have created a Summer Sizzle menu featuring two distinctly Mexican traditions for you to enjoy.
Mexico Specialties: Ceviche & Mole - July 25th through 30th
Served from 5:30-11:30 pm. Select one item from each category. A complimentary beverage is included for $299 pesos. Not subject to any other discounts.
Appetizers
• Acapulo style Shrimp Ceviche with Tomato Sauce, Olives and Garlic
Ceviche estilo Acapulco con camaron, salsa de tomate, ajo y aceitunas
• Sea Bass Ceviche - Chunky Style with Cucumber, Jicama, Tomato, Onion and Cilantro
Ceviche de Robalo estilo "Corrales" cubos con pepino, jitomate, cebolla y cilantro
• Fresh Scallop Ceviche, Sinaloa Style
Agua Chile estilo Sinaloa con callo de hacha
Entrées
• Chicken Enchiladas with Mole Poblano Sauce, served with Rice and Sesame
Enchiladas de Pollo con salsa de mole poblano, servidas con arroz y ajonjoli
• Oaxacan Style Pork Loin in Green Sauce, with Rice, Green Beans and White Beans
Lomo de Cerdo en salsa verde, estil Oaxaqueño, servido con arroz, ejotes y alubias
• Duck Breast in Black Mole with Rice and Pureed Sweet Potato
Pechuga de Pato en salsa de mole negro, servido con arroz y pure de camote
Desserts
• Poblano Mole Crème Brulee with Whipped Cream - Crème Brulee de mole poblano, servido con crema batida
• Fresh Corn Flan - Flan de Elote
• Lime Sorbet - Sorbet de Limón
In just about every culture you look at, you can find a hint of Mexico in its cuisine. Just like many cultures influenced its cuisine, the same can be said about Mexico. In November 2010, Mexican cuisine was added by UNESCO (United Nations Educational, Scientific and Cultural Organization) to its lists of the world's "intangible cultural heritage."
Get a taste of it all at Daiquiri Dick's. And to add some extra Mexican flavor, Puerto Vallarta's favorite strolling musician, Jorge Acosta, will be performing a special show at the restaurant on Friday, July 27th starting at 8 pm. Tickets are $150 pesos and are being sold in advance at the restaurant or at the door on the night of the performance.
Open daily from 9 am to 11 pm, Daiquiri Dick's offers elegant dining in a relaxed atmosphere for breakfast, lunch or dinner. (Closed on Tuesdays through October.) Visa, MasterCard and Banamex accepted. Reservations are recommended and can be made at DDPV.com.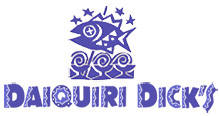 Daiquiri Dick's contemporary design exudes a quiet elegance that invites relaxation, and its tropical location at Olas Altas 314 on Los Muertos Beach offers the perfect atmosphere for enjoying spectacular views of Banderas Bay. For reservations call (322) 222-0566. For more information, visit DDPV.com.
Click HERE to read more about Daiquiri Dick's.