Puerto Vallarta, Mexico - Many foodies consider French cuisine the haute couture of the culinary world. From July 11th-16th, you have a chance to sample some of this exquisite food on this week's Summer Sizzle menu at Daiquiri Dick's restaurant in Puerto Vallarta, Mexico.
French cuisine has developed over centuries of social and economic change. Up until 1789, when the Bastille was stormed, the majority of French citizens were poor farmers whose diets were based mainly on grains.
In the decades that followed, an upper class emerged, thought good food was a mark of social standing. Even though high end cuisine was being served in the elite private homes, all was not well in the nation. During this time, 70 percent of French peasants still suffered from poverty and malnutrition.
World War I heralded the beginning of modern French cuisine. Improved transportation during the first half of the 20th century spread the wealth and regional cuisine that had previously been segregated. Tourism came into high demand after World War II and furthered the need for grand cuisine at a fair price. Now anyone could saunter into a tavern or restaurant and have a substantial meal.
The main features of French cuisine include using local, in-season ingredients and cooking them to perfection - and you'll find this tradition carried on at Daiquiri Dick's.
The Flavors of France - July 11th through 16th
Served from 5:30-11:30 pm. Select one item from each category. A complimentary beverage is included for $299 pesos. Not subject to any other discounts.
Appetizers
• Chicken Galantine with Dijon Mustard, Cornichon and Melba Toast
• Chilled Cream of Watercress Soup with Leek and Potato
• Apple, Beet and Pear Salad with Bleu Cheese and an Apple Champagne Vinaigrette
Entrées
• Duck a L'Orange - with roasted Baby Carrots and Orange Sauce
• Steak au Poivre - Beef Medallion crusted with Cracked Pepper, served with Cognac Sauce and Garlic Mashed Potatoes
• Bouillabaisse - with Clams, Calamari, Shrimp and Mahi Mahi with Tomato and Saffron
Desserts
• Chocolate Mocha Pot du Creme
• Apple Tarte Tatin with Whipped Cream
• Almond Coffee Crepes with Coffee Ice Cream
At Daiquiri Dick's attention is paid to the quality, flavor, and appearance of food. It is a pure, nearly religious, sensory experience. What once was subsistence is now an object of daily, living art. Daiquiri Dick's, an exceptional experience.
The Summer Sizzle menu changes every Wednesday until August 31, 2012. Delicious destinations still to come on this journey include exotic Istanbul and Pan-Asian medleys. There will be select countries in Western Europe, where comfort food has gone creative, and the lively seasonings of Latin America will produce mouth-watering results.
Open daily from 9 am to 11 pm, Daiquiri Dick's offers elegant dining in a relaxed atmosphere for breakfast, lunch or dinner. (Closed on Tuesdays through October.) Visa, MasterCard and Banamex accepted. Reservations are recommended and can be made at DDPV.com.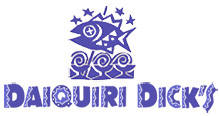 Daiquiri Dick's contemporary design exudes a quiet elegance that invites relaxation, and its tropical location at Olas Altas 314 on Los Muertos Beach offers the perfect atmosphere for enjoying spectacular views of Banderas Bay. For reservations call (322) 222-0566. For more information, visit DDPV.com.
Click HERE to read more about Daiquiri Dick's.