Puerto Vallarta, Mexico - Last month, No Way José! restaurant owners Julie Guerrero and José Alfredo celebrated the end of their 3rd successful year of business as one of Puerto Vallarta's finest restaurants by holding a fundraiser for the Banderas Bay Women's Shelter.
Throughout the evening everyone enjoyed great food, wonderful music, piñatas, a tequila bar, a 50/50 cash raffle, singing, dancing, and lots of fun. José Alfredo even took the stage, blessing us with his wonderful voice, so it goes without saying that a good time was had by all!
Donations of a few wonderful raffle items helped to make the evening a success. Debbi Egan donated a "Day on the Bay" on her beautiful sailboat. Dieter and Lucille Shipley donated some lovely artwork, and Bara DeMarino donated a beautiful designer necklace.
Personalized 4x4 tiles for the shelter's "Welcome Wall" and 8x12 floor tiles were sold throughout the evening, raising even more much-needed funds for the shelter's ongoing construction. By night's end, No Way José! had helped the Banderas Bay Women's Shelter raise just over $53,000 pesos, which will be used to finance the continued construction of the shelter.
Thank you Julie and Jose for your continued support! And thanks to all of our friends who not only came out to celebrate Julie and José Alfredo's success, but who also continually support the Banderas Bay Women's Shelter. And finally, a big thanks to local photographer Josef Kandoll for taking so many wonderful pictures of the event.
When completed, the Banderas Bay Women's Shelter will be roughly 5,000 square feet and will be able to accommodate 6-8 women and their children with a total capacity of 32 people. Those who are interested in supporting Banderas Bay Women's Shelter may purchase personalized tiles for $600 and $1,200 pesos, bricks for $100 pesos each, or make a donation through their website at CompassionForTheFamily.org.
---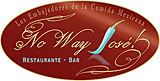 Named the "Best Overall Restaurant," "The Best Moderate Restaurant" and runners-up for "Best Service" in Vallarta Lifestyles' 2011 Readers Choice Awards, No Way José! is located on the south side of downtown at 5 de Febrero #260, just over the Vallarta street bridge on your left. Open 7 days a week from 4:00 to 11:30 pm, reservations can be made by calling (322) 223-2853 or by emailing reservations(at)nowayjosemx.com. For more information, visit NoWayJoseMx.com.

Click HERE to learn more about No Way José!