Puerto Vallarta, Mexico - Our beautiful city on the Bay of Banderas is soon going to be known for its academic contributions to Mexico, to go along with its already well known aesthetic, cultural, and economic attributes. Two new academic institutions are coming to our municipality to join the prestigious Centro Universitario de la Costa (CUCosta) at the University of Guadalajara in Puerto Vallarta.
University of the Americas Vizcaya
The University of the Americas Vizcaya was founded in Tepic, Nayarit in March 2000 by the Cultural Board of Trustees Vizcaya A.C. The institution has had an important territorial expansion in recent years with 12 campuses in the country and a presence in more than ten cities throughout Mexico.
The educational facility arrives in Vallarta with an academic project of quality and the support of updated studies programs, according to the needs of the productive sectors. Vocational training is complemented with cultural and sporting activities, travel studies, conferences, summers of research, student mobility, artistic weeks, social events, and the Intervizcaya (a yearly cultural event and beauty contest.)
The Puerto Vallarta campus will open in September and will represent one of the best college options in our city, offering degrees in architecture, law, psychology, criminology, education, and accounting, to name only a few.
With a humanistic vision and an entrepreneurial culture, an education from The University of the Americas Vizcayais will be an experience that no doubt will leave a mark on its graduates forever.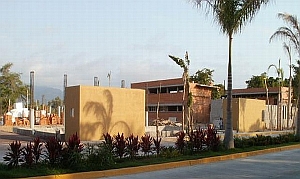 The Tepeyac Institute's Puerto Vallarta campus will be ready for the start of the next school year
The Tepeyac Institute
The Tepeyac Institute began expansion to other cities in Mexico after being founded in Mexico City more than 30 years ago. There are currently campuses in Cuautitlan, Guadalajara, Xcaret, and Santa Anita, and in each of these communities the institute has been very well received.
With its modern settings and first class facilities, the opening of the Institute's Puerto Vallarta campus for the next school year is a highly anticipated event. Through each of its graduates, The Tepeyac Institute has demonstrated their professionalism and love and passion for the training of young people.
A beautiful municipality such as ours, and an educational institution such as this, will surely make Puerto Vallarta a better place to live.
Source: VipVallarta.com