Bahía de Banderas, Mexico - We Mexicans are well known for going through hard moments with a smile in our faces and a funny joke to share. "Septihambre" is not an exception, it is our word for septiembre (September). Hambre means 'hunger,' which represents very well the reality that this is the most difficult month of the year.
Restaurants, Hotels and tourism services are all at their lowest vacancy. Families have used most of their savings to get through the low season months. Any money left is spent buying a few school supplies for their children to go back to school in August.
This is the reason why each year we unite with community members to support a critical project - to help provide food for people in need, in a dignified way, while creating environmentally-friendly communities.
"Action for Food" supports the PEACE Community Pride program, Protectores de la Comunidad. The focus is on single mothers, elderly, disabled, and unemployed persons. These members of the community volunteer for 2 hours a day to help keep their communities clean, and in return bring home a basket of healthy food that will provide them, and their families, with 10 wholesome meals. The result is clean streets and playgrounds, and recycled trash. PEACE proudly started this project 2 years ago and have since supplied over 60,000 meals to families in 5 Banderas Bay area communities.
Action for Food exists due to the great concern of amazing groups and individuals that want to help families live a better life in clean communities. From September 1st-30th we are collecting food in 5 locations:
The Vallarta Yacht Club in Nuevo Vallarta (next to Paradise Village Marina); Bucerías Art Walk (Lázaro Cárdenas #62); Octopus Garden Restaurant (Coral #6) and Philo's Bar and Music Club (Delfin #5) in La Cruz de Huanacaxtle; and at PEACE headquarters, Casa Campesina, in Otilio Montaño.
Please help! Food items needed to support the Protectores are: dry beans in bags, dry rice in bags, box milk, pasta noodles, canned tuna, soup bouillon, tomato paste, toilet paper and cooking oil. This food package provides 10 meals at a cost of only $70 pesos (aprox. $5 USD.)
If you would like to be part of this chain of positive social change but are out of town, you can make an online donation through Paypal on the PeaceMexico.org website. It takes less than 5 minutes to make a difference in the lives of these families - and communities - so donate today!
For more information please contact Cecilia Paredes at ceci(at)peacemexico.org.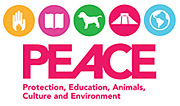 PEACE, (Protection, Education, Animals, Culture, Environment) established in 2005, is a 501(c) 3 nonprofit organization made up of three main programs which focus on education, animal well-being, and environmental protection in the Bay of Banderas, Nayarit, Mexico. PEACE works hand-in-hand with communities in Mexico to provide holistic education, combined with community action programs that enable people to improve their quality of life as well as their financial stability.


For more information, please visit PeaceMexico.org, or
click HERE to read more about PEACE