Puerto Vallarta, Mexico - This Friday, November 23, Galeria Contempo warmly invites you to meet artist Miriam Pérez and view her most recent works at an opening cocktail reception from 6 to 10 pm, during this week's Basilio Badillo Southside Shuffle.
"I believe art has to communicate at first sight, at first touch, the same way the breeze or the sun touches your skin, or a smile or a tear touches your soul. My work is based on the effort and joy of movement, the struggle of life and how it reflects in the human soul. Life is movement, and so is Art." - Miriam Pérez
The words of a true sensualist, Miriam's rapturous works in bronze, fused glass, ceramic and more reveal a dazzling zest for life in all its permutations.
A native of the Yucatan who grew up loving the outdoors and the sea, she says she never did become an artist because she was born one.
"As soon as I could hold a crayon in my hand I started drawing," admitting to frequently getting into trouble at school "because I´d always be sketching in my notebooks and simply couldn't stop."
Passionate about all things artistic, Miriam went on to design sets and lighting for theater and television and to choreograph modern dance, a manifestation of her fascination with the human body.
"I love its beauty and capacity to express life. It's a wonderful tool that has been given to each of us! We can dance, create, think, love, write and enjoy poetry, music, and have beautiful babies! The possibilities are infinite and I never tire of looking at it," she says.
And thanks to Miriam's numerous monumental public works in both Mexico and the United States, multitudes have been enchanted by her ebullient interpretations of the human form. Attendees and participants at Jalisco's recent Pan American Games, for example, were inspired by one of her monumental pieces just outside the new gymnastics stadium.
"Bronze seduced me; it's a very intriguing technique. It took me a while to find a foundry where I had the freedom to experiment in my own style - which became more air-like, less solid - and then I started to go BIG and absolutely loved it, becoming totally absorbed in the entire process," she confesses. "Many artists just drop their molds at the foundry and then forget about them until the piece is finished. Not me. Waxes and bronzes are put together at my studio and patinas are created there, too."
"I'm a happy person who loves life. At night, when my body is tired but my head is not, I paint or do digital art on my computer to relax. And for fun, I do raku firings in my kiln, with my friends and family," she concludes.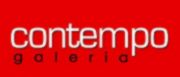 Open Monday through Friday from 10 am to 2 pm and 4 pm to 8 pm, and from 10 am to 2 pm on Saturday, Galeria Contempo is located at Basilio Badillo 252 at the corner of Ignacio Vallarta in the Romantic Zone of Puerto Vallarta. For more information, call (322) 223-1925, click HERE, or visit GaleriaContempo.com.