Puerto Vallarta, Mexico - MEXLend, an industry-leading Mexican mortgage brokerage, is proud to announce that they have begun closing loans under their new Passport to Mexico Program. This program offers mortgages specifically targeted for foreigners, in particular, US and Canadian citizens who are buying property in Mexico.
One of the first brokerages with a division specializing in dollar loans for foreigners, MEXLend and has been diligently looking for alternatives when the US dollar options became unavailable with the withdrawal of Compass Bank, BBVA, and Scotiabank from the market. While others may claim that mortgages do not exist any longer or are difficult to obtain for foreigners in Mexico, MEXLend has formed partnerships with Mexican lenders interested in this strong niche market.
Steve Martin, a successful Canadian businessman, returned to MEXLend for a second time to finance yet another property in Puerto Vallarta to become the first Canadian to close under the new Passport Program. He fell in love with Mexico years ago, bought his first condominium with MEXLend's help and wanted to invest in Mexico again. This new program made that possible. He says, "A big thank you to everyone involved!"
"We are ecstatic with the introduction of yet another lending option available for US and Canadian citizens for Mexican properties," stated David Schwendeman, co-founder and COO of MEXLend. "Mexico continues to be attractive to foreign buyers despite the negative press. The resort communities continue to offer safe and attractive real estate investment opportunities as well as unparalleled amenities."
"We are pleased to be able to service the needs of foreign buyers as well as our core Mexican clientele. Not everyone can afford to pay all cash, and even for those that can, a mortgage is still a better option," MEXLend's CEO, Terence Reilly added.
Historically low mortgage rates for Mexico are now available for almost everyone. Loan terms begin with down payments for as little as 10% and interest rates starting at 9%. Real estate professionals working with MEXLend see immediate results. Carl Timothy of Timothy Real Estate Group in Puerto Vallarta says, "MEXLend, you rock!" Thanks so much for your hard work. Your team are true professionals."
While many lending options are available in Mexico, MEXLend is the only brokerage with a specific division dedicated to foreigners.
MEXLend has been singled out for customer service. In announced results, based upon post-closing client interviews, MEXLend won the #1 mark of distinction for both client satisfaction and fastest closings for the third straight cycle. Time and time again, MEXLend was praised for their attention to detail, ease of process and timeliness. Forging partnerships with banks, private lenders, title insurance agencies, and attorneys has afforded MEXLend the unique ability to streamline the process in Mexico.
To discover which one of the many loan options that MEXLend offers is right for you, visit mexlend.com.mx or mexlend.com or call toll-free at 1-800-3 Mi-Casa or (322) 222-7377. From the US or Canada, call (917) 779-9061.
---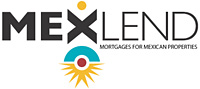 Are you looking to purchase vacation or investment property in Mexico? To discover which one of the Mexican Peso mortgage loan options that MEXLend offers is right for you, visit MexLend.com or MexLend.com.mx, call (322) 222-7377 in Vallarta, toll-free at 1.800.3.Mi.Casa in Mexico or (917) 779-9061 from the US or Canada.

To learn more about MEXlend, click HERE.