Puerto Vallarta, Mexico - The River Café has enjoyed its 15th year with the International Festival Gourmet. After a successful 10-day event, Eva, Margarito and the staff are excited to announce that their invited Master Chef Roberto Gavino Chavez Oviedo will be staying!
Like many of us, Chef Roberto, has fallen in love with the natural beauty, the culture, and the people of Vallarta. In fact, he is thrilled to share his culinary talents in a destination that is second only to Mexico City in its gastronomy scene.
"Puerto Vallarta is very privileged with all of its fruits and vegetables. It has great wealth," says Chef Roberto. "Everything that is brought in is abundant."
A native of Lima, Peru, Roberto got his culinary start as a teenager working in his family's restaurant. Although he wanted to spend time with friends, his father had other plans. With the help of an uncle, an internship at the Country Club Hotel's Le Perroquet Restaurant was secured. The adolescent showed up on the first day and was awed by the grandeur of the professional kitchen. From that moment, Roberto's love affair with the culinary arts blossomed.
In 2004, Chef Roberto graduated with honors from Lima's Cenfotur School. He took a position at the Hotel Meliá Cabo Real's La Terraza Restaurant in Los Cabos followed by a sous chef position with the founding team at the Diamante Golf Course. While in Baja California, Chef Roberto was introduced to the diverse flavors of traditional Mexican cuisine. He took this experience and became the head chef at Ridge Luxury Villas.
Chef Roberto feels at home at The River Café where their philosophy is built around fresh ingredients and the environment. His approach is "the simpler, the better," and his dishes blend seasonal ingredients with international gourmet techniques.
You are invited to enjoy the culinary artistry of Chef Roberto at The River Café. This beautiful open-air restaurant located on the Rio Cuale is open daily from 9:00 am to 11:00 pm. For more information, visit rivercafe.com.mx.
---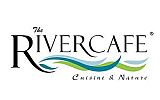 Open daily from 9 am to 11:00 pm, The River Café is located at Isla Rio Cuale #4 in downtown Puerto Vallarta. Reservations are recommended and can be made by calling (322) 223-0788 or online at RiverCafe.com.mx.

Click HERE to learn more about The River Café.