Puerto Vallarta, Mexico - The Banderas Bay region has always been known for its delicious fare. However, for ten days in November, the International Festival Gourmet turns this beachside destination into a food lover's paradise. With the 18th annual festival just around the corner (November 8th - 18th,) The River Café is proud to take part in this celebration of the culinary arts.
The River Café has been participating in the Festival Gourmet for fifteen years. Once again, they have invited a world renowned guest chef to join them in the kitchen, preparing a tantalizing menu of international specialties. They are proud to present this year's honored guest, Peruvian chef Roberto Gavino Chavez Oviedo.
Internationally recognized in the Who's Who of Chefs in the United States, Chef Roberto is a favorite among gourmet connoisseurs. In 2004, he graduated with honors from Cenfotur School in Lima with a degree in international cuisine.
He then traveled to Los Cabos where he worked as chef in the Hotel Meliá Cabo Real's La Terraza Restaurant. Eventually, Chef Roberto became the sous-chef at the Diamante Golf Course, where he was introduced to various Mexican flavors. Finally, he ran his own kitchen at Ridge Luxury Villas.
With a responsible approach to the culinary arts, Chef Roberto serves fine gourmet meals that reflect harmony and happiness beyond the kitchen. He cares about the health of his guests, combining fresh ingredients with the ethnic influences that make up authentic Peruvian cuisine.
You are invited to enjoy the culinary artistry of Chef Roberto during these International Festival Gourmet events:
• Gourmet Dine Around (November 8th - 18th starting at 6 pm) - Dine out every night! With participating Puerto Vallarta and Riviera Nayarit restaurants to choose from, you will have the world of gastronomy at your feet (or on your plate.)
• Welcome Chef Welcome Party (November 8th at 8:30 pm) - 29 gourmet restaurants will be celebrating the arrival of their invited guest chefs with dinner, dancing, music, and fireworks. This event will take place at Marival Residences & World Spa in Riviera Nayarit.
• Chef's Table and Winemaker's Night (November 11th at 8 pm) - Chef Roberto will present a Table d'hôte special dinner and wine paring at The River Café.
• Gourmet Safari Progressive Dinner (November 12 at 7:30 pm) - Enjoy a medley of drinks, hors d'oeuvres, entrees, and desserts at La Palapa, Coco Tropical, Kaiser Maximilian, and The River Café.
The River Café is open daily from 8:00 am to 11:30 pm. For more information, visit RiverCafe.com.mx.
For a complete 18th Annual International Festival Gourmet program, visit festivalgourmet.com/.
---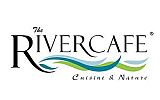 Open daily from 8 am to 11:30 pm, The River Café is located at Isla Rio Cuale #4 in downtown Puerto Vallarta. Reservations are recommended and can be made by calling (322) 223-0788 or online at RiverCafe.com.mx.

Click HERE to learn more about The River Café.