Puerto Vallarta, Mexico - The Old Town Farmers' Market - Tianguis Cultural is gearing up for its 4th season. With new vendors joining the long list of Market favorites, this event promises to one of the best weekend attractions in Puerto Vallarta. Opening day festivities take place on Saturday, Nov. 3, from 9:30 am to 2 pm across from Lazaro Cardenas Park in the Zona Romantica.
Passionate about the Market's "bake it, make it, grow it" philosophy, over 75 vendors have been eagerly preparing for the upcoming season. They will be offering farm fresh produce, artisan foods, jewelry, clothing, crafts and flowers, all of which are either locally grown or handmade in the Vallarta area.
"Since 2010, the Farmers Market has focused on nurturing the entrepreneurial spirit which is abundant in Mexico," says Charlotte Semple, Market Director and co-owner of Xocodiva Artisan Chocolates. "This season, the Old Town Farmers Market is excited to welcome many new and returning vendors, including Deborah with her vast selection of Mami Jams, Lorene from Artisan Bakery and Joaquin with his home made yogurt."
And while the vendors have enjoyed the success of their businesses, they have also elected to give back to the community by improving the local elementary school. El Jardin de Niños. located on calle Pino Suárez (between B. Badillo and V. Carranza), which hosts the Market each year.
"Over the summer, Natasha, the bread lady, shared her talent for mosaics by adding a contemporary design in the girls' room and an octopus in the boys' room," explains Charlotte. "We also fixed the gutters in the playground area so the kids can play there during the rainy season."
It is this playground which doubles as the Market's famous International Food Court. Residents and tourists have long appreciated the tastes and aromas of this eclectic assortment of baked goods, drinks, desserts and entrées. From BBQ ribs to roasted fish and from tacos to fresh brewed coffee, there's something for everyone.
You're invited to join in the family-friendly fun of the Old Town Farmers Market - Tianguis Cultural. With live music, community education and the hospitality of local vendors, the Market is a "must-experience" for every resident and tourist.
While there, feel free to drop off some much-needed school supplies for the children of El Jardin de Niños. Every box of crayons or ream of paper goes toward the continuing education of Old Town Puerto Vallarta's youth.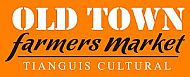 The Old Town Farmers Market-Tianguis Cultural is located on Calle Pino Suarez and inside the El Jardin de Niños Emiliano Zapata, between V. Carranza and B. Badillo. We invite you to visit us every Saturday from November to May between 9:30 am and 2 pm. Plenty of parking is available across the street in the Lazaro Cardenas parkade. For more information or to learn about the Market's community involvement, visit OldTownFM.com or its Facebook page: Old Town Farmer's Market Puerto Vallarta, or contact Daniella Sanchez, the Market Coordinator, at coordinator(at)oldtownfm.com.

Click HERE to learn more about the Puerto Vallarta Old Town Farmers' Market.