Puerto Vallarta, Mexico - How refreshing to chat with a multi-dimensional creative being whose canvas is life itself! Especially when he is one of Puerto Vallarta's own, Sergio Hernandez a proud Vallartense through and through.
Interviewing Sergio Hernandez was fascinating because he is such an independent thinker. Refusing to embrace the term artist, he sees himself "as a part of the great mass of humanity - creative experimentation is my path to happiness."
Sergio's "The Inclusion Of Fantasy" exhibit at Galeria Contempo will be unlike any other you have seen. This is the first time Sergio has exhibited in the past 10 years of intense experimentation. "A complete concept," it features photography, paintings, drawings, furniture, and more.
He worked together with renowned New York City photographer Oscar Linares of Hudson Studios, to transform himself into his "Payaso" or clown that is thematic to his upcoming show. "I enjoy creating personalities, like the far-from-stereotypical clown. It's a way to live my dreams, to project my fantasies, and to accept every part of myself to feel whole."
And boy does he walk the talk! At 41, Sergio has already designed his own fashion, furniture, and jewelry lines, as well as being a painter, photographer, interior designer, and more - and yet he still sees himself as a work in progress and says he always will.
"To be balanced in life I stay alert to all that is around me, constantly finding inspiration. And it brings me great joy to discover novel ways of doing things, because I am free to create whatever feels right. But the real secret for me is discipline, because if you don't have that you are lost. Art is so much more than a romantic fantasy. It takes lots of hard work and passion."
Sergio Hernandez and Oscar Linares' "The Inclusion of Fantasy' opening reception is this Friday, January 25th from 6 pm - 10 pm at Galeria Contempo. Prepare to be fascinated!
Galeria Contempo is located on Basilio Badillo 252, in the Romantic Zone. Phone: (322) 223-1925. Visit our website.
---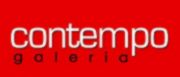 Open Monday through Friday from 10 am to 2 pm and 4 pm to 8 pm, and from 10 am to 2 pm on Saturday, Galeria Contempo is located at Basilio Badillo 252 at the corner of Ignacio Vallarta in the Romantic Zone of Puerto Vallarta. For more information, call (322) 223-1925, click HERE, or visit GaleriaContempo.com.