Puerto Vallarta, Mexico - It's a rare weekend when PV's enthusiastic writing community gets an opportunity to mingle with a collection of successful, published authors willing to dole out advice, a literary agent on the lookout for clients, and a publisher's representative in town to listen to manuscript pitches.
However, that's what lies ahead February 22nd - 24th during the 8th annual Puerto Vallarta Writers' Conference and Book Fair at Biblioteca Los Mangos.
"The goal this year," says conference chairman Doug Danielson, "is to inspire the release of the creative muse lurking inside all creative writers. The thread of the conference – Writers Unleashed - is how to write what publishers want and make money."
From keynote speaker David Lyons, author of the thriller Ice Fire, to Los Angeles Times best-selling true crime writer Corey Mitchell, ghost writer and editor Terra Mar, mystery writers Jinx Schwartz and Beth Groundwater, to author and blogger James Callan, the emphasis will be on turning ambition into success.
"Anyone who ever wanted to write and thought they couldn't," will be the target of Mar, who says "I want to help participants reconnect with their 'willing writer within,' wake up and dust off their muse, and release their unique writing potential."
All of this year's workshops, seminars, and panel discussion will focus on inspiring writing abilities and enhancing skills.
"No matter what genre you write," says Groundwater, a finalist in the Best First Novel Agatha Award for her book A Real Basket Case, "you need to understand story structure, tight plotting, realistic characterization and dialogue, and all the basics of the craft of writing to be successful."
Of course, there is no magic bullet to writing success, but Vallartans may have a leg up, according to Schwartz, winner of the EPPIE award for the mystery, Just Add Water.
"Most of my books are set in Mexico," she says. "People love to read about Mexico." She should know. Most of her writing is done aboard a boat docked in the Sea of Cortez and she is adamant in her belief "that with the internet today you can write from anywhere and reach an international audience."
A common theme runs through the messages presenters say they will be bringing to the conference.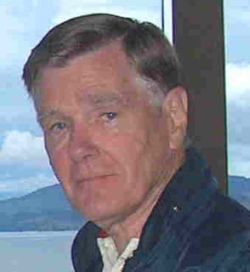 James Callan
"Write, write, write. Read. Write, write, write," advises Callan who will be instructing on character development. "Then don't be discouraged by rejection. Harry Potter was turned down by more than a dozen publishers."
The lesson he intends to bring is simple: "All genres need the same basics: a good hook to get the reader interested, good characters, a decent plot, well-turned phrases, smooth reading paragraphs, clear and easy transitions, and a satisfying ending."
"One of the most important things," Callan says, "is making memorable characters that readers can and will identify with."
But is that enough? "No," says Groundwater. She plans to emphasize that persistence and the ability to learn and adapt "are more important factors in being a successful writer than talent and creativity. Hard work will indeed get you published."
To that Schwartz adds: "Just do it. Dream big. Write well."
How? "My advice is - to write a great book, edit, edit, edit, and then edit. Do not put something out there that will tarnish your reputation in the future. It is all too easy now to publish a badly written book, and all the marketing in the world will not make a it a best seller. However, if you have a book that total strangers love and buy, there is always that chance you will go viral."
The conference is not just for writers. Readers interested in learning more about the writing process or in meeting authors are welcome too. They can take part in the three-day program, attend the free Sunday afternoon Book Fair on the library grounds where there will be food and entertainment as well as book sales, or sign up for the keynote address Friday night by Puerto Vallarta author David Lyons.
Lyons, a long-time Puerto Vallarta resident, transformed his career as a globe-trotting international lawyer into that of full-time novelist writing about a renegade federal judge who takes justice into his own hands.
Lyons' account of his evolution as a writer should provide inspiration to conference goers with similar ambitions. As a travelling lawyer he found himself killing time on international flights and in foreign hotel rooms by reading. Then, to pass the time, he started writing. Soon the writing turned to a vocation which he describes as an "enormous satisfaction."
Conference chairman Daniels, himself a published novelist, says "for years David Lyons has been an inspiration to all the ex-pat writers in Puerto Vallarta. As one of the founding members of the Puerto Vallarta Writers' Group, he is an outstanding example of what talent and perseverance can mean to your writing career. We celebrate his success and are looking forward to hearing how he landed on top of the slush pile."
After producing several self-published books, Lyons hit the jackpot with Ice Fire which was published by Atria/Emily Bestler Books, an imprint of Simon and Schuster. Packed with suspense, science, politics, and murder, it is the tale of a US judge who confronts one of the most powerful energy companies in the world. Ice Fire is the first in the series.
"In writing you call upon your imagination, your wings," Lyons explains on his website. "They may not come fully formed, but the more you use the wings of your imagination, the further and further you soar. There's no place you can't go and there are no crowds, lines, security checks, or customs inspections in your travels – and it's first class all the way."
Suzie Townsend, an agent with New Leaf Literary and Media will be running a session on Finding an Agent and What do agents look for in a query letter. Billie Johnson, a representative of publisher Oak Tree Press will be accepting manuscript pitches.
The conference is jointly sponsored by the Puerto Vallarta Writers' Group and Bibiloteca Los Mangos.
Registration is $125 or $1,600 pesos until January 31st. After that, it is $150 or $2,000 pesos. Seating is limited so early registration will guarantee participation. Registrants will receive further emails outlining the program of workshops and seminars. Online registration is at
PVWG.com.