Puerto Vallarta, Mexico - Mirroring back to us our best selves, an Abelardo Favela painting is an attitude as much as it is a work of art. In its presence, one feels happily motivated to live optimally in the now.
Talk about a fast-acting mood enhancer! No prescription required.
Refreshingly, no deep intellectual reserves need be summoned to appreciate these exuberant works, because there is nothing contrived or forced about either Favela's subjects or style. Best described as minimalist and figurative with a nod to famed Italian artist Modigliani, his oils in jaunty primary hues celebrate every aspect of this thing called life.
Parsing everything down to the essence of what matters, regardless of what his subjects are doing - singing, dancing, lying in repose, you name it - they are in a state of flow, wholeheartedly engaged. Chop wood; carry water. It all matters and we all matter. This is no uncaring universe. In the world of Favela, skies are always blue because we can always make life-affirming choices. We can pick up that musical instrument we have long wanted to play, and we can take our dog to the beach. Life can be as much fun as we want it to be. We can be passionate about everything we do and do it well, because each of us creates our own reality.
Highly successful in advertising for many years, Favela sold his Mexico City agency when realizing that what made life truly worthwhile for him was expressing his highest impulses through art. Widely exhibited, including at the esteemed Josť Luis Cuevas Museum of Contemporary Art, savvy international art collectors make positive statements with his uplifting works full of charm and self-confidence.
So you might want to make a point of attending the opening reception for his latest exhibition this Friday night, February 22nd at Galeria Contempo. Not only can you meet this life-affirming artist, but I strongly suspect you will walk away with a bounce in your step and a song in your heart.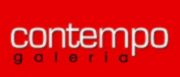 Open Monday through Friday from 10 am to 2 pm and 4 pm to 8 pm, and from 10 am to 2 pm on Saturday, Galeria Contempo is located at Basilio Badillo 252 at the corner of Ignacio Vallarta in the Romantic Zone of Puerto Vallarta. For more information, call (322) 223-1925, click HERE, or visit GaleriaContempo.com.