Puerto Vallarta, Mexico - If you are looking for something special to do this Saturday, then make your way to the Old Town Farmers' Market located in Puerto Vallarta's Zona Romantica. This "producer only" market is shaking things up with its whimsy and Whiskey every Saturday morning.
For four seasons, Isis Eglé has been delighting Farmers' Market guests with her whimsical ink and colored pencil illustrations. From exotic animals to martini glasses and from winding staircases to bear claw bathtubs, Isis offers a little "double meaning word play" to popular Mexican colloquialisms. For example, one drawing features a giraffe submersed in rolling waves. The caption, Si te llega el agua al cuello...estíralo, means "If you're up to your neck in water, stretch it."
"People like the drawings, but when they find out the meanings, they love them," explains Isis. The daughter of an artist and a writer, she successfully blends her talent and dark humor to bring the drawings to life. Not only is Isis a well-known artist in the Vallarta area, but she is also an educator, having shared the love of art with local school children as well as Spanish-immersion students in Seattle, Washington.
Isis continues to inspire artists of all ages with her participation at the Old Town Farmer's Market. One such customer was six-year-old Michael. After he inquired about her process, Michael announced to his family that he would be purchasing a framed piece, "See you later, Alligator." The youngster pulled out his wallet and paid the agreed amount with his own money.
"He was my best customer," says Isis, happy to share her expressions with art aficionados of all ages. If you would like to learn more about Isis' work, stop by her Market exhibit on Pino Suárez. She has framed or unframed illustrations as well as printed calendars and mugs. To learn more, visit IsisEgle.com.
And after the whimsy comes a little whiskey - Destileria Los Dos Compadres Whiskey, that is.
Eve and Larry Dorwart are proud to introduce their long-time family tradition of moonshine whiskey. All of their liquors, including the Single Cask Sour Mash Whiskey and Gringo Larry's Shine, are hand crafted and made from locally grown, organic fruits, grains, and sugars. They produce the Whiskey in small batches at their artisan distillery located in Boca de Tomatlan, a small fishing village just twenty minutes south of Vallarta.
In their first season at the Market, Eve and Larry are excited to be amongst the 90 vendors who "make it, bake it, grow it" each week. Recently, the two rolled out their Licor de Café Mexicano, a coffee-cream liqueur made from dark roasted, locally grown espresso beans, sweet cream, and Gringo Larry's Shine. "It's been so popular, we sell out," says Eve. And Larry couldn't agree more, happy that customers from all over the world enjoy his products.
If you're looking for a unique, flavorful Whiskey, then stop by the Destileria Los Dos Compadres Whiskey exhibit conveniently located just outside of Nacho Daddy on B. Badillo, the new home for the Market's International Food Court. For more information, visit DestileriaLos2Compadres.com, or Los Dos Compadres' Facebook page.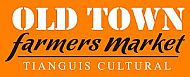 Whether you're searching for whimsy, Whiskey, or other delightful treasures, you'll find it at the Old Town Farmers' Market located on Basilio Badillo and Pino Suárez. The Market is held every Saturday morning from 9:30 am to 2 pm from the first Saturday in November to the last Saturday in May. For more information, visit the Market website at OldTownFM.com, or its Facebook page: Old Town Farmer's Market Puerto Vallarta.

Click HERE to learn more about the Puerto Vallarta Old Town Farmers' Market.