Puerto Vallarta, Mexico - It's been another great year for PEACE Puerto Vallarta Home Tours, but there are only 3 tours left this season: March 12th, 19th and 28th, 2013. PEACE home tours finance their 'Food for Families' program where, in return for working 2 hours a day on a designated project, needy families receive a basket of food that will feed them 10 meals.
PEACE helps determine what needs done in our poorer colonias (neighborhoods) and determine who are willing to do them. Street cleaning, Painting over graffiti and cleaning up parks etc. are examples. Help us feed the less fortunate by taking one of the last 4 tours of the season.
These entertaining and informative three-hour tour showcase a variety of architectural styles ranging from small, traditional style homes to graceful haciendas and breathtaking multi-million dollar oceanfront condos and villas. Homes change on a weekly basis, so we invite you to join us more than once.
Each ticket bought ($450 Pesos or $35 USD) buys 40 meals! We've provided 6000 meals since the program began. We leave from Plaza Romy, Ignacio Vallarta #228 every Tuesday at 10:30 A.M.
Advance tickets are available at Superior Tours at Plaza Romy or on the
PEACE website.
Tickets are also available the morning of each tour (subject to availability) at 9:30 am at the welcome desk inside Plaza Romy. We accept cash only the day of the tour.
---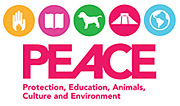 PEACE, (Protection, Education, Animals, Culture, Environment) established in 2005, is a 501(c) 3 nonprofit organization made up of three main programs which focus on education, animal well-being, and environmental protection in the Bay of Banderas, Nayarit, Mexico. PEACE works hand-in-hand with communities in Mexico to provide holistic education, combined with community action programs that enable people to improve their quality of life as well as their financial stability.


For more information, please visit PeaceMexico.org,or
click HERE to read more about PEACE