Puerto Vallarta, Mexico - With mortgages becoming more of the norm in Mexico and with ever-increasing loan options, Banderas News is helping sort through the confusion by having your personal Financing/Mortgage questions answered by our experts - David Schwendeman and Terence Reilly, Founder's of MEXLend, an industry-leading Mortgage Broker based in Puerto Vallarta, Mexico.
Q: "Are there loans in Mexico? I heard that they did not exist anymore."
- Josh L, Seattle, Washington
A: The simple answer is yes! Actually, there have always been loans for foreigners in Mexico. It is simply a matter of connecting with the right broker and matching you with the right circumstances. Currently, there are Mexican bank mortgages in Peso denominations and US Dollar Loans through private sources in areas where they apply.
For the purposes of this conversation, a "foreigner" is someone whose primary residence is not in Mexico and who earns their income outside of Mexico. Anyone of any nationality legally living and working in Mexico will qualify as a "Mexican" in the eyes of a Mexican bank. These programs have existed for several years alongside the US lenders, but they were a very small subset as clients gravitated to the lower interest rates of GE Capital or Compass Bank.
Also, the guidelines and processes of the banks from the United States were more familiar to clients making them more attractive. Now that the GE- type of loans no longer exist in Mexico, we are pleased that these Mexican programs still exist and are closing more loans than ever for foreign nationals.
There are a few differences in the qualification process for a Mexican bank loan. Income verification is primarily based on checking account deposits and pay stubs and tax returns are mostly used to verify legitimacy of business activity-not cash flow. This is a bit of a reverse from the process in Canada or the USA, where tax returns trump all other documentation.
Unfortunately, in Mexico there is age discrimination. If you are age 64 or above, obtaining credit of any kind in Mexico is tricky and your broker may have to seek alternative sources. At any age, you may be required to take a physical exam with a bank-appointed doctor.
The request for an exam is rare, but we have seen it happen primarily with clients between 60 and 64. Why? In Mexico, as a borrower, you are required to carry life insurance in the amount of the loan with the bank as the beneficiary. This is actually a good thing, because if you should die, you heirs will inherit the property free and clear of any liens.
Many times, the bank will still grant a loan with a client that has pre-existing conditions, but they will simply exclude that condition from the life insurance policy. Lastly, in order to submit your loan, you must have a Mexican visa. This is an easy step to satisfy, but it will take a visit to your nearest Mexican Consulate in your home country. Your broker will coach you on this and all other aspects of the application process.
As for the parameters of the loans themselves, the underwriters of the Mexican banking industry are still a bit uncomfortable with this market, so a 50% down payment is considered normal for a foreigner obtaining a loan. We started 2012 with as little as 10% down payments, but over the past year that has evolved into a much higher down payment requirement.
Interest rates are considerably higher in Mexico, but for those of us who remember loans in the USA or Canada in the 1980s and 1990s they are right in that range -9% to 10.5%. Banks in Mexico are not making a higher profit, they simply pay more for their money. The USA and many other countries are still propping up recessionary economies with falsely low rates. This is great for the borrower, but an indication of an economy in turmoil.
Mexico is enjoying a strong economy and a strong banking system. Unfortunately, this means higher interest rates for the consumer. But the great news is that financing is available at all. There are rarely pre-payment penalties, so you can pay off these higher interest loans when you have the available cash.
Also, President Peņa Nieto of Mexico delivered a speech recently,
pledging to lower interest rates
to spur consumer lending for housing. Interest rates are edging even further down as this article is published. This bodes well for everyone.
In addition to the institutional loans in Mexican Pesos, there is currently one private lender in Mexico that is offering loans in US Dollars for US citizens and Canadians. The benefit of this lending tract is that this lender is extremely quick in their underwriting process, has no visa requirements, and will close quickly. Anyone of any age can qualify.
In addition, they only require a 35% down payment and while the interest rate is higher (14%) there are no pre-payment penalties, so it is a perfect bridge loan if you need to perform quickly to snatch up one of the many incredible deals that are emerging in the resort markets. This group also has the only Cash-Out Refinancing option for US and Canadian citizens utilizing the Mexican property as collateral.
There are multiple reasons why you should finance your Mexican property, even at a higher interest rate. First, financing your Mexican purchase still remains the safest way to buy. You are bringing in a strong partner to review and verify the documents and the entire legal process to ensure that you are making a viable and clean investment. Second, if you tap into your equity in the US or Canada, those funds are no longer available for you should you have an emergency and need the cash quickly.
Third and very importantly, most people do not realize that the interest paid on a loan here in Mexico should be tax-deductible for you back home, which will make the higher interest rates pay off.
There are no predictors or crystal balls for exactly when a market hits bottom, but most real estate and financial experts believe that the current lower home prices in Mexico will not last long. They will begin to climb exponentially as the economy continues to heat up.
We conveniently forget that most Americans and Canadians amassed their wealth by taking advantage of the mortgage systems in their countries when interest rates were comparable to what they are now in Mexico - or even higher. Taking advantage of a loan to get you into a great deal now, is a terrific tool to have at your disposal. Now is the time to invest in Mexico.
MEXLend is a pioneer in the mortgage industry and continues to close loans nationwide. They have direct approvals with every major bank in Mexico and their brokerage has been instrumental in obtaining loans for Mexicans of every income category. When a client calls MEXLend, it is like talking to every loan option available throughout Mexico at no extra cost. Their foreign loan division is unsurpassed in obtaining financing for foreigners purchasing property in Mexico.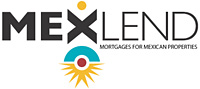 Are you looking to purchase vacation or investment property in Mexico? To discover which one of the many mortgage loan options that MEXLend offers is right for you, visit MexLend.com or MexLend.com.mx, call (322) 222-7377 in Vallarta, toll-free at 1.800.3.Mi.Casa in Mexico or (917) 779-9061 from the US or Canada.

To learn more about MEXlend, click HERE.