Puerto Vallarta, Mexico - The culinary team at Daiquiri Dick's Restaurant will be cooking like crazy during Vallarta Restaurant Week 2013. This annual festival highlights some of the area's best eateries, with participants offering 3 courses for a set price.
Daiquiri Dick's is presenting their three course menu for only $299 pesos, and there are choices for each course, featuring flavors from around the world.
Appetizers
• Pork and Shrimp Siu Mai, traditional Chinese steamed dumplings served with spicy citrus-soy dipping sauce
• Ajo Blanco, chilled white gazpacho made with diced apples, grapes and almonds
• Watermelon Salad, mixed greens along with feta cheese and mint
Main Courses
• Steamed Red Snapper, with scallions, ginger, pancetta and rice
• Spice-crusted Pork Chop, with green harissa and roasted butternut squash
• Spaghetti with Shrimp and home made pesto
Desserts
• Italian Cream Cake, with toasted coconut and pecans
• Mint Sorbet
• Chocolate Pot de Cr้me
With exceptional cuisine and superior service in an elegant beachfront setting, when it comes to fine dining in Puerto Vallarta, Daiquiri Dick's has it all... especially from May 15th-31st 2013, when you can enjoy their special Restaurant Week 2013 menu every day but Tuesday from 5 to 11 pm.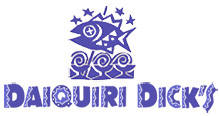 Open daily from 8:30 am to 11 pm, Daiquiri Dick's offers elegant dining in a relaxed atmosphere for breakfast, lunch or dinner. (Closed on Tuesdays from April to October.) Visa, MasterCard and Banamex accepted. Reservations are recommended, and can be made by calling (322) 222-0566. For more information, visit DDPV.com.
Click HERE to read more about Daiquiri Dick's.
---
Restaurant Week 2013 runs from May 15-31 at some of the most recognized restaurants in Puerto Vallarta. Don't miss the chance to dine at your favorite Puerto Vallarta restaurant - and save a bundle! Click HERE for a sneak peek at the menus some of the other participating restaurants are serving.