Puerto Vallarta, Mexico - On July 31st, No Way José! will host an event that puts a hilarious spin on the TV classic, 'The Newlywed Game'. Starring our very own Ray Vallarta and Sue Keevil Vallarta from the infamous 'No Ordinary Love' wedding event at Langostino's last April, this is one event you don't want to miss!
This fabulous evening will take place at 'Tu Casa en Vallarta,' where you'll enjoy great drink and appetizer specials and a live DJ cranking out tunes from the 70s. Yes, that's right, the 1970s! Everyone is very strongly encouraged to dress appropriately to attend this event, so break out your bell-bottoms, mini-skirts and platform shoes, and be prepared to boogie!
Four accordingly dressed couples - Ray & Sue, Sandra Reeves & Yolette Garraud, Ryan Rigazzi & James Kastner, and Lori Lorenzen & Ad Dalebout - will take the stage ready to answer questions about their wonderful relationships with brutal honesty... and your emcee for the evening, full of charm, charisma, and cleavage... will be the always entertaining Sylvia McNamee.
Tickets to the event can be purchased at the door for $150 pesos, with all funds raised benefitting Corazon de Niña and the Banderas Bay Women's Shelter.
You know you don't want to miss this! Come down to No Way José! on July 31st from 7 pm to 9 pm, and be a part of this hysterical evening, all for a great cause!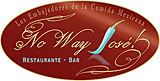 No Way José! is on the south side of downtown at 5 de Febrero 260, just over the Vallarta street bridge on your left heading south from the Malecón. Open Tuesday through Sunday from 4 pm to 11:30 pm, reservations are available by calling (322) 223-2853 or by emailing Reservations(at)NoWayJoseMx.com. For more information, visit NoWayJoseMx.com, or join us on Facebook for real-time updates and special offers.

Click HERE to learn more about No Way José!