Puerto Vallarta, Mexico - Over the years, Mexico has become an increasingly popular place for foreigners to buy property, but since word got out that foreigners may soon be allowed to own beachfront real estate, property developers and international buyers are sitting up and paying attention.
Traditionally, buying a Mexican property meant paying all cash or convincing a seller to carry the note, but over the past few years many lending options have opened up to foreigners seeking a mortgage. This has yielded a panorama of possibilities for leverage in the Mexican market - and thousands of foreigners are heading down Mexico way to snap up vacation homes, retirement villas and investment properties.
Puerto Vallarta-based MEXLend Mortgages for Mexico has been representing more lenders than any other broker for more than 8 years. They closed the first Laredo National Bank Loan, the first Scotiabank US Dollar loan, the first Compass Bank Loan, the first Intercontinental National Bank Loan, the first IMIGroup loan. And now, in keeping with it's history, Mexlend has once again introduced a new lending source to Mexico - Alaska Financial LLC.
"We are very excited to have an exclusive relationship with Alaska Financial LLC to shepherd and launch their Mexico lending," says Mexlend President, David Schwendeman. "Throughout the years of our being in business, new lenders to the Mexican market have gravitated to Mexlend, because of our excellent reputation for both our underwriting skills and our wide experience in being able to close the majority of loans for foreign nationals who are investing in Mexico."
It is normal procedure for MEXLend not to publicize the launch of a new lender until they have a proven track record of closings. There have been several successful closings to date. These closing have catapulted MEXLend once more into the position of closing more loans for foreigners than any other brokerage in Mexico.
Though Mexican banks WILL finance foreign buyers for real estate purchases, they can be time consuming and there are no Cash Out options at all through the regular banks.
"While we will always have Mexican Peso loans through the major banks in Mexico, having an option that closes fast and easy is a bonus. Besides, this is the only option for a Cash Out Finance for foreigners in all of Mexico," touts Terence L Reilly, CEO.
In addition, this program is available for anyone who wishes to, or has already, purchased Mexican property under the name of a corporation. No national banks will lend on a residence owned by a corporation, so Alaska is filling a niche market.
Since these loans utilize the Mexican property for collateral, MEXLend is in the unique position of being the only mortgage broker that can offer both individuals and corporations of all nationalities the opportunity to obtain funding for either a purchase or a cash out refinancing of a property in Mexico.
"As President of Alaska Financial with 25 years experience funding private loans, Mexico offers an exciting opportunity for us. Because of the experience, and very high level of professional service, Mexlend is our ONLY choice for our Asset program. At the end of the day, every borrower and lender needs one thing - honest, fair dealings for a successful loan experience. Mexico overall, and MEXLend in particular, offer an excellent choice for those clients who want the very best in both expertise and opportunity, and Alaska Financial is committed to a bright and long future working with Mexlend," pronounced Alaska LLC President, Tobias Preston.
At this juncture, MEXLend's Alaska loan program is only available in the resort areas of Mexico, including Puerto Vallarta, Los Cabos, Cancun, Playa del Carmen, Tulum, Manzanillo and Mazatlan, but they are currently expanding to include San Miguel de Allende and Mexico City.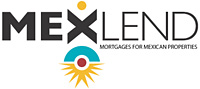 Are you looking to purchase vacation or investment property in Mexico? To discover which one of the many mortgage loan options that MEXLend offers is right for you, visit MexLend.com or MexLend.com.mx, call (322) 222-7377 in Vallarta, toll-free at 1.800.3.Mi.Casa in Mexico or (917) 779-9061 from the US or Canada.

To learn more about MEXlend, click HERE.