Puerto Vallarta, Mexico - HSBC, one of the world's largest banking and financial services organizations, recently conducted a study designed to pinpoint the top emerging markets for 2013 and beyond. The study examined Mexico, Brazil and Argentina, the three largest economies in Latin America, ultimately naming Mexico as the "investment of choice."
"What has long been known by Latin American insiders is that Mexico, the only Latin American country that is a member of NAFTA, has been the shining example of free-market economic activity in the region for over 15 years," writes HSBC. "Combining this with a new government that has been clear about policies of reform; and HSBC has concluded that Mexico is the safest bet for investors in the region."
Investing in Mexican real estate, whether it's land, a home or a commercial property, can offer great value for money in comparison to prices in the US, Canada and Europe. Add to that a favorable exchange rate for U.S. dollars and other currencies, and investing in Mexican real property is even more attractive to foreigners.
With about 1.5 million Americans already owning property, Mexico's real estate market is pretty well established, and as a result it is well equipped to cope with foreign buyers. However, Mexican real estate laws still differ substantially from the American system and there are many crucial nuances to consider before cutting a deal for Mexican property, say experts.
For decades, foreigners have had to use real-estate trusts to buy beachfront properties, because Article 27 of the constitution prohibits non-Mexicans from directly owning land within 31 miles of the coast and 62 miles of the nation's borders. The trusts have provided a lucrative income for banks, lawyers, and notaries who are required to operate them, and the extensive paperwork has discouraged many foreigners from buying.
But now, heartened by the proposed changes to Article 27 of Mexico's constitution, which would loosen longstanding restrictions on foreigners buying property along the coast and the nation's borders, thousands of foreigners are setting their sites on Mexican vacation homes and retirement properties.
"This change is a signal to foreign investors that they are welcome in Mexico, and that should boost real estate sales in the resort areas quite a bit. This is a very welcome change and I know my realtor friends are going to reap the benefits. However, people who currently have trusts may not want to rush out and cancel them," said Terence L Reilly, CEO of Puerto Vallarta-based MEXLend Mortgages for Mexico.
"Trusts are an important estate management tool. If an owner of a property dies, and they have a trust, there will be nominal fees to pass the property down to their designated beneficiaries. All that is needed is to pay the Notary to change the registered document. But if there is no trust in place, then the property must go through probate and inheritance taxes will kick in. So, most savvy investors will want to keep their trusts in place. Paying a few hundred dollars a year for maintenance and then paying a nominal Notary fee is much better than going through probate courts in Mexico and having to pay a 30% inheritance tax," he added.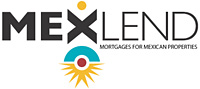 Are you looking to purchase vacation or investment property in Mexico? To discover which one of the many mortgage loan options that MEXLend offers is right for you, visit MexLend.com or MexLend.com.mx, call (322) 222-7377 in Vallarta, toll-free at 1.800.3.Mi.Casa in Mexico or (917) 779-9061 from the US or Canada.

To learn more about MEXlend, click HERE.