Puerto Vallarta, Mexico - It is the Christmas Season so, on Wednesday, December 18th we will give both Vallartenses and visitors an opportunity to give and receive at Mangos Beach Club. You will get a fabulous brunch and some unique entertainment for your $300 pesos ticket. This helps to give an education to one of Becas Vallarta's almost 400 scholarship students - bright, deserving young people whose only short fall is economic.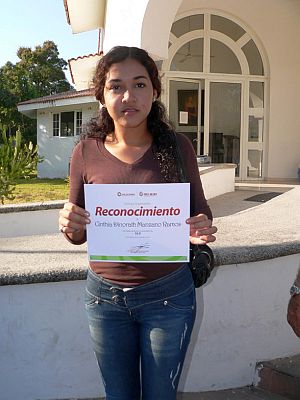 Becado Cynthia Manzano Ramos showing her certificate from the Mayor of Puerto Vallarta for her grade point average of 10.0 - perfect.
Imagine one of the most beautiful beaches in Puerto Vallarta and one of its finest beach clubs as the setting. Then see beautifully appointed Christmas Season tables, filled with generous people who regularly and willingly help us change lives through education, by supporting our events -small and large.
A brunch you will long remember starts with a fabulous Carrot and Pumpkin Soup, followed by Chicken Breast with mushroom gravy, mashed potatoes and mixed seasonal vegetables. An array of small deserts: Cheese Cake, Tiramisu, Flan and more will be served at your table.
Before and during the Brunch, members of Becas will be circulating, selling raffle tickets for $50 pesos each or three for $100 pesos. These tickets will give you a chance to win an array of amazing and valuable prizes - dinners at La Palapa, Cafe des Artistes, Andale's, Archie's Wok, Daiquiri Dick's, River Café, Coco's Kitchen and many more of Vallarta's finest restaurants.
A Silent Auction will offer original purses from Lalo Morales, a valuable print of the late Stefan Lokos' most famous painting, ceramics from the Mundo de Azulejos tile store, a fresh flower arrangement from Maripepa's Florart, and more.
After the Brunch, we have a special treat for all who see incredible floral and Christmas arrangements and wish you could duplicate them. Designer Extraordinary, Rocco Troyani, will give a demonstration of some of his best work. If you have been to the Becas Balls you know how talented and original are his designs. You won't want to miss this!
And let's not forget the giving part. Every peso or dollar from your ticket and purchases goes toward the scholarships of almost 400 students in the public schools of Puerto Vallarta. When a student meets our requirements of at least a 8.5 grade point average, dire economic circumstances, good citizenship and a keen desire to get an education, we pledge to continue the scholarship until the student has reached his educational goal - whether high school or university. Thus our constant need to raise funds. But there is no other way you can make such a personal difference in the lives of these students as by helping to fund their educations. Lives are truly changed and Puerto Vallarta, Mexico and the world profit from these incredible students.
We recently had two more examples of special giving. Faith Collectiva, a boutique on Basilio Badillo has a Becas donation jar in their store, and at last week's South Side Shuffle, they gave us 10% of their earnings - a $2,500 pesos donation. The same week, prominent artist Judith Ewing Morlan auctioned one of her exquisite paintings at her art showing and donated the proceeds of $2,800 pesos to Becas. How is that for giving?
Don't miss the Becas Brunch at Mangos Beach Club, Uruguay 109, on December 18, 2013 at 11:00 am. Free parking in Ley's underground parking lot. Tickets may be reserved by emailing or calling me, Polly Vicars, at
phvicars(at)gmail.com,
or (322) 223-1371, or by contacting any member of Becas Vallarta. See you there!
---

Polly G. Vicars and her late husband, Hubert (a.k.a. "Husband") retired to Puerto Vallarta in 1988 and soon became active members of several charitable organizations. Polly is the author of "Tales of Retirement in Paradise: Life in Puerto Vallarta, Mexico" [a sell-out!] and "More Tales of Retirement in Puerto Vallarta and Around the World." Proceeds from the sale of her books go to the America-Mexico Foundation, a scholarship foundation that is her passion.
Click HERE for more articles by Polly Vicars
, or
click HERE to learn more about Becas Vallarta and the America-Mexico Foundation.