Puerto Vallarta, Mexico - Whew! You made it through the 25th. Now it's time to time to treat yourself to a little "make it, bake it, grow it" goodness for a healthy mind, body and spirit in the New Year.
Body Works
Bahia Chiropractic - Meet Erik A. Fulfer, a third generation, board certified chiropractor, who not only makes house calls, but who adjusts patients from all over the world underneath his shaded tent at the OTFM-TC. 322-182-5045 or BahiaChiropractic.com.
Golden Hands Massage - Salatiel Trujillo Denova is a professional therapist with over 12 years' experience in Alphabiotic Alignment and Medical Biomagnetism. His therapies promote relaxation, circulation and balance. Visit Salatiel at his Vallarta location (Luis Donaldo Colosio #251), or on Facebook.
Heart-Healthy Foods
Cooperativa Germinal - If you're a honey lover, be sure to stop by to pick up a jar of Vallarta's best. Honey has been proven to heal wounds and fight against allergies, bacterial infections and acid reflux.
Luis Romero - Nothing adds life to your surroundings like plants. Be sure to stop by Luis Romero's stand for a variety of lush potted plants and flowers. Don't forget to pick up some edible herbs as they will add a little "giddy up" to your daily activities.
Shining Sprouts - Fabiola Lopez Polo features homegrown sprouted lentils, a tasty snack or addition to any salad or sandwich. Sprouts offer protein for healthy hair, skin and bones as well as fats and carbohydrates for cell energy. 322-152-0903 or Facebook.
Decked Out
Begoña Sandalias - If you love beach sandals, be sure to stop by Begoña Sandalias. You'll find "all the trimmings" on these high quality, stylish and comfortable must-haves. Facebook
Erica Maree - Inspired by the colors of Mexico, Erica Maree fashions fashion-forward handbags and accessories from hand-embroidered Oaxaca dresses, oil cloth and indigenous beading. EricaMaree.com or Facebook
Ollin Mexica - Cristel Reimink and Heriberto Saucedo blend the artistry of silver jewelry-making and the beauty of natural gemstones, pearls and beads to create distinctive jewelry and décor. 322-160-2747
"Happy New Year" from all of us at the Old Town Farmers' Market-Tianguis Cultural!
Impassioned by responsible food production, entrepreneurial development and the "buy local" movement, Puerto Vallarta's OTFM-TC is a North American style market celebrating the tradition of Mexico's tianguis markets, providing one-stop-shopping for home décor, fashions, accessories, farm-fresh produce, international cuisine and read-to-eat foods.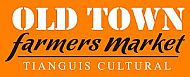 Located in Lazaro Cárdenas Park, kitty-corner to Daiquiri Dick's on Olas Atlas, the Old Town Farmers' Market-Tianguis Cultural is open every Saturday from 9:30 am to 2 pm from the first Saturday in November to the last Saturday in May. For only $10 pesos an hour, you can park in the garage directly beneath the plaza. Or you can take a taxi or public bus, which stops along Pino Suarez Street, just steps from the Market. For more information, visit OldTownFM.com, or on Facebook: Old Town Farmer's Market Puerto Vallarta.

Click HERE to learn more about the Puerto Vallarta Old Town Farmers' Market.