Puerto Vallarta, Mexico - From a migratory point of view, what constitutes one's identity? Is it our place of birth? Is it how we look?
Cuban-born artist Yoel Diaz Galvez believes it is our essence, or spirit, that defines who we really are. But that it is via our miraculous bodies, "passionate instruments with never-ending fountains of movement and character," that our spirit finds its way.
Stripped of everything but one's human anatomy, Diaz Galvez' upcoming exhibition makes a formidable statement about Cubans leaving the island. While a simple boat represents the desire to reach a place where one might self-actualize, the Tocorro - Cuba's national bird and therefore a symbol of his original identity - conveys an ironic message.
Asked how he himself had gotten out of Cuba, Diaz Galvaz' response was a love story:
"A few years ago, Cuba was the special guest of the Guadalajara International Book Fair, and I was invited to paint murals for the Cuban pavilion. I met and fell in love with a young Mexican woman from Puerto Vallarta who was working there. I had to leave Mexico once the fair ended, but we stayed in touch by writing letters and the occasional phone call (Internet is not widely available in Cuba) and today, we are happily married and I live legally in this country."
Diaz Galvaz says he has always been motivated to distance himself from stereotypes regarding the human body, because in his work it fulfills a vigorous, dramatically different role than merely that of an aesthetic object.
His portraits shocking in their vitality and precision, yet amazingly subtle in character, "the figurative nature and the theme of my paintings arouse various sensations that are marked by shades of gray."
And in this case, those monochromatic shades are exquisitely burnished and textured to evoke moods and feelings awakening the observer to astonishing new realities.
This is one artist to definitely keep your eye on. His hyper realistic pieces collected by individuals, businesses and museums throughout Europe and elsewhere, just this past November, Diaz Galvaz was honored with the prestigious Lorenzo II Magnifico Award in Italy. Competing with 450 artists from around the globe at the esteemed Ninth Annual Florence Biennal, he received second prize in the all-important painting category.
And now we get to experience his gripping works right here in Puerto Vallarta, at Galeria Contempo during his Opening Reception on Friday the 24th of January from 6 pm to 10 pm.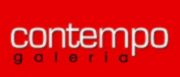 Open Monday through Friday from 10 am to 2 pm and 4 pm to 8 pm, and from 10 am to 2 pm on Saturday, Galeria Contempo is located at Basilio Badillo 252 at the corner of Ignacio Vallarta in the Romantic Zone of Puerto Vallarta. For more information, call (322) 223-1925, click HERE, or visit GaleriaContempo.com.