The Oscar nominations are in! Mexican director Alfonso Cuaron's epic 3-D space odyssey Gravity which earned him the Golden Globe for Best Director is now leading the upcoming Oscars with a whopping 10 nominations. The only other film matching Gravity in Academy Award nominations is director David Russell's comedy about con-men American Hustle.
Director Steve McQueen's epic historic tale 12 Years a Slave isn't too far behind, nabbing a total of nine nominations. Interestingly enough, all three films are nominated in the category of Best Motion Picture. But Cuaron, Russell, and McQueen are not each others only competition.
Six other films were nominated for best picture. The other nominees for Best Motion Picture include Captain Phillips, Dallas Buyers Club, Her, Nebraska, The Wolf of Wall Street, and Philomena.
Sandra Bullock, who starred in the 91 minute space saga as "Doctor Ryan Stone," obtained an Oscar nod for Best Actress for her role in Gravity. Alongside, Bullock the best actress nominees are Amy Adams - American Hustle, Cate Blanchett - Blue Jasmine, Judi Dench - Philomena, and Meryl Streep - August: Osage County.
If Ms. Bullock takes home the Oscar it would be her second, she won the award for Best Performance by an Actress in a Leading Role back in '09 for her work in The Blind Side. She was also a nominee at this year's Golden Globes but lost out to Cate Blanchett for her performance in Blue Jasmine.
Cuaron has been nominated for an Oscar twice before in his career, though he has never taken home the golden figurine. He was nominated for Best Writing and Original Screenplay for Y du mamá también in 2003 and again in 2007 for Best Writing and Adapted Screenplay for Children of Men.
The Full List of the Nominees are: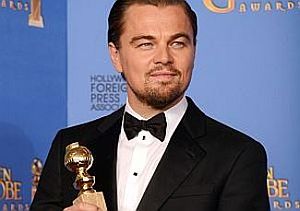 Leonardo Dicaprio
Best Picture
12 Years a Slave
American Hustle
Captain Phillips
Dallas Buyers Club
Gravity
Her
Nebraska
Philomena
The Wolf of Wall Street
Best Director
David O. Russell - American Hustle
Alfonso Cuaron - Gravity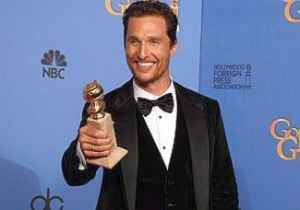 Matthew McCounaughey
Alexander Payne - Nebraska
Steve McQueen - 12 Years a Slave
Martin Scorsese - The Wolf of Wall Street
Best Actor
Christian Bale - American Hustle
Bruce Dern - Nebraska
Leonardo DiCaprio - The Wolf of Wall Street
Chiwel Ejiofor - 12 Years a Slave
Matthew McConaughey - Dallas Buyers Club
Best Actress
Amy Adams - American Hustle
Cate Blanchett - Blue Jasmine
Sandra Bullock - Gravity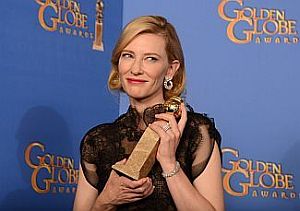 Cate Blanchett
Judi Dench - Philomena
Meryl Streep - August: Osage County
Best Original Screenplay
American Hustle
Blue Jasmine
Her
Nebraska
Dallas Buyers Club
Best Adapted Screenplay
Before Midnight
Captain Phillips
Philomena
12 Years a Slave
Original Story