El Tuito, Jalisco, Mexico - Seven US presidents were born in log cabins. The most notable, of course, was Lincoln. During elections, all of them were quick to remind the public of their humble frontier origins with fulsome references to their roughhewn family cabins.
However, the introduction of the log cabin to Mexico is actually a surprisingly recent phenomenon driven by lower costs and by the natural, compatible esthetics of log structures in mountain regions. All of the gringo cabin lore with its aura of dubious presidential humility is of only mild interest to vacationers in Mexico looking for an affordable, attractive country escape from the heat and congestion of city life. Cabins can also offer the right blend of economy and serenity for retirees, especially when there is a competent doctor near at hand.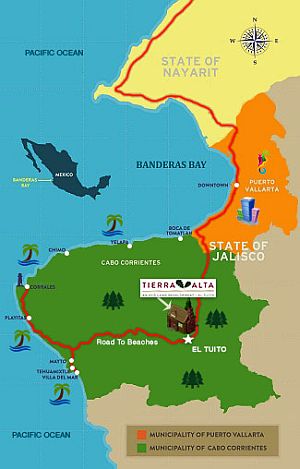 Located in El Tuito, Tierra Alta is situated 45 minutes south of Puerto Vallarta and 45 minutes from the beaches of Cabo Corrientes.
Thinking about Cabins in Mexico
For the last two years, my wife, Xochitl, and I been trying to define the essence of the best cabin experience today. We have thought about cabins not just as a commercial venture, and not just as a weekend or vacation retreat, but as the possible living space for the duration of our sojourn here on this planet.
We selected a 17 acre (7 hectare) tract of beautiful forested mountain land called Tierra Alta. It is on the edge of the town of El Tuito, just under an hour from Puerto Vallarta, with an equal distance to the wild, beautiful beaches along the Pacific Coast of Cabo Corrientes.
Who will live there?
When complete, there will only be about 28 lots and cabins on the property, each lot being nearly a half-acre. We will live there at least part time and we expect our neighbors to be a lot like us - a mix of Mexican nationals and Gringo/Canadian types, cost conscious, ecologically inclined, internet addicted, private but sociable.
At Tierra Alta, there will be a blend of full time residents and retirees, along with weekend/vacation owners enjoying their cabins as leisure retreats from an increasingly intense and congested urban life that too often reminds them of the conditions they came to Puerto Vallarta to escape.
What will it cost?
A modest but comfortable cabin with all services connected can cost less than $100,000 USD. So for some retirees, this option is a practical answer to the fearsome budget restraints of retirement. Cabins can be custom built to accommodate many kinds of handicaps. And the cost of daily domestic help is affordable in Mexico, even on the most austere budgets.
The rules at Tierra Alta require compatible structures and unobstructed views. The actual construction is handled by the Imagina Group from Guadalajara (more about them below). However, there is a reasonable amount of freedom to design your own retreat any way you want it as long as it is within the general category of a cabin or villa (a big cabin). There will also be strict enforcement of environmental regulations - something that was probably not practiced by most of the cabin dwellers who later became presidents.
What is a Cabin?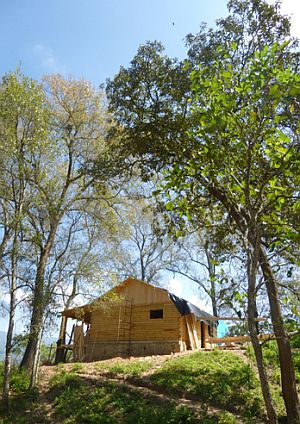 Our model cabin under construction (November 1), now completed.
A small, roughly built house. That's the brief dictionary definition for "cabin." But we know a cabin does not have to be "roughly built" to be a cabin. Just make a brief visit to the beautiful mountain towns of Tapalpa and Mazamitla south of Lake Chapala about an hour and a half from Guadalajara. There you will see that the log cabin has become a refined architectural style that seems very much "at home" in the Mexican landscape.
Log cabin "kits" have been available in the US recreational market for many decades. About twenty-five years ago, some of those American kits ended up in Mexico near Guadalajara where they were valued for their ease of assembly and rugged practicality.
The inevitable occurred. One of the local Mexican contracting companies, now named the Imagina Group, figured out how to use native Mexican materials to build their own cabin kits for the emerging vacation market among Guadalajara residents who wanted an affordable escape from the city to the mountain terrain south of Lake Chapala.
One of the obvious advantages of Mexican construction was the availability of fast-growing, renewable Mexican pine from the nearby State of Durango. So Imagina devised a plan to build its own log cabin kits which eliminated the high cost of US logging and kit construction. Local Mexican production also eliminated the prohibitive costs of long haul shipping from the middle of the US to central Mexico.
Eduardo Contreras, Imagina owner and son of the late founder, estimates that his log cabins are about 20 percent lower in cost than imported cabin kits. Eduardo says they are also lower in cost than structures built locally with non-organic materials such as cement block. He is also building with a variety of organic materials: tongue in groove log facings, traditional adobe bricks and frame lumber. Local rocks are often used for the foundation. In some cases, all of these materials are used in the same cabin.
This takes us back to the question of how to distinguish a "cabaña" or cabin from any other structure. Contreras has arrived at his own useful definition: cabins must be constructed mainly from organic, natural materials such as pine trees, lumber or adobe (and rock). Eduardo feels that a cabin cannot be built principally from manufactured materials and still offer the same experience. "There is some kind of magic," says Contreras, "to sleeping in a real cabin." We chose Eduardo to build our cabin at Tierra Alta.
Apart from Eduardo's requirement for natural materials, there is one other feature that distinguishes the cabaña/cabin from other dwellings: cabins are located outside of the mainstream of conventional urban neighborhoods with their high population densities.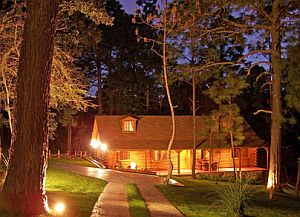 Three bedroom cabin in Tapalpa built by the Imagina Group.
Cabin construction traditionally did not require professional expertise.
For example, I have always admired the brevity of Henry David Thoreau's cabin construction plan: "Near the end of March, 1845, I borrowed an axe..."
Now, of course, we hire professional cabin builders. But regardless of who the builder may be, a real cabin still carries a kind of mythical significance. Can the cabin myth really coexist with all of the modern conveniences and "connectivity" we have come to expect as base line requirements regardless of our location? We'll soon find out. Look for our next chapter, "A Cabin in Mexico, Part II" to be written and published as soon as we move in and can report on the experience of living in Tierra Alta, where we hope 27 other couples or families will reside.
Not Roughing it in a Cabin in Mexico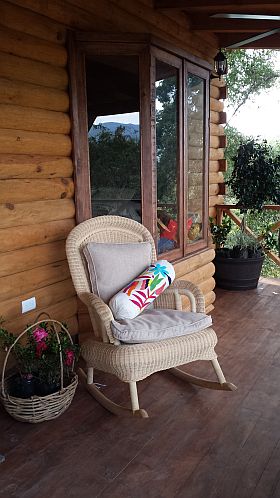 Our cabin is now finished. We will move into it by end of January.
For expatriates living in Mexico today, there is little interest in "roughing it." Americans and Canadians living in Mexico tend to think of themselves - quite accurately - as having already crossed an important psychological frontier just by being in Mexico, especially if they are at retirement age or close to it. Mexican nationals also want the same blend of cabin authenticity with all of the comforts, entertainments and connectivity they have at home in the city.
Of course, the modern family cabin is nothing remotely like the 16 x 18 foot log structure of the Lincoln family. Nor does today's leisure or retirement cabin in Mexico need to resemble the one room cabin which Thoreau built in Massachusetts, costing slightly more than 28 dollars. It measured 10 by 15 feet.
Lincoln and Thoreau were contemporaries (Lincoln b. 1809, Thoreau b. 1817). I have not found that they directly influenced each other politically. But they both fiercely opposed the US War against Mexico in the 1840's as the invasion of a neighboring country. Both men were famously associated with log cabins. Lincoln was born in one and Thoreau built one with a borrowed axe before writing a book about his time alone in a cabin at Walden Pond.
Neither Lincoln nor Thoreau could have dreamed that a cabin in an oak forest in Mexico could offer all of the comforts, enrichments and high tech distractions of a townhouse in New York. But now it can. Today, cabins in Mexico can be removed from any city environment and still have all of the urban technological conveniences: satellite TV, internet access and international cell phone reception. All of them can be solar powered if you make the required investment.
Of course, you can also have old fashioned evening conversations face to face with your cabaña neighbors around an outdoor fire. You can have reliable, ecologically correct plumbing. You can have as much domestic help as you like at a very low cost and, of course, you can have home pizza delivery. For that matter, it's just one mile - a four minute drive to El Tuito for a sumptuous dinner.
So, can you really have all of these conveniences and still preserve the essence of the cabin experience in a natural setting? We say yes, but... It is now time for an important confession: we have not yet spent our first night in our mountain cabin in Mexico.
The cabin is now finished. We will move into it by end of January. Site preparation began on September 1. Can it all happen that fast, and more important, will we be happy to be there? Will it be remote enough to still feel the bracing chill of solitude on cool starry nights? Comfortable even when there are, say, four adults and as many kids in the (2 bedroom 2 bath) cabin? Can we really stay "connected" to internet, laptops and scanner from a cabin in the woods? And if we can, do we somehow compromise the cabin experience in some subtle way?
Maybe there are still some hard lessons we must learn about cabin life in rural Mexico. Will Xochitl and I discover that the cabin is all too quiet and that even the full service version of cabin life is just too isolated?
Or will it be quite wonderfully the contrary... filled with a deep sense of contentment, alone at times but not at all lonely in a uniquely beautiful part of the world?
Toward Tranquility or Cabin Fever?
We will report to you in February on the move-in experience after we come up against the final realities of construction and moving day in an oak forest less than an hour from Puerto Vallarta. But after noting the usual glitches of any move-in experience, the real question will come back to whether it is possible to strike the right balance between our urban and rural instincts in a cabin in Mexico.
I think yes.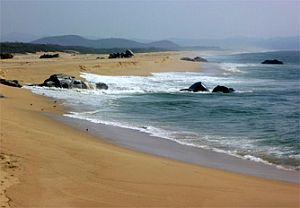 Pacific Coast beach at Mayto near El Tuito Cabo Corrientes Jalisco
Why? In part, it is because of the restless natural dynamic of El Tuito's unique geography. Remember that El Tuito is at a pivotal center point equidistant between Puerto Vallarta (48 minutes) and the glorious empty beaches of Cabo Corrientes (also 48 minutes from El Tuito).
The daily options at this center point are just too varied and intriguing to allow any malaise about how best to enjoy one's time.
So instead of frontier cabin isolation, any resident at Tierra Alta will face a welcome daily decision: today, is it a leisurely drive to one of the forgotten beaches of Cabo Corrientes for an afternoon beach lunch with fresh oysters and just-caught grilled lobster? Or is it off to Vallarta to shop before lunch with friends. Then it's a leisurely drive back to the cabin for a delicious late nap, interrupted in time for drinks on the deck with neighbors amidst the oaks moving in slow sympathy with the breeze from the west?
Or, is it just a late afternoon swim in the Tierra Alta pool and then a peaceful evening in the cabaña with your spouse, happily aware that all of those choices are right there, near at hand, every day?
Well, let's get moved in first. We will let you know how it goes - this first chapter of cabin life in Mexico. It will not be dull.
David Kimball has lived in Mexico for more than 30 years and is now "mainly retired" from careers in journalism, advertising and the hotel business. He and his wife, Xochitl, plan to live "at least part time" in their mountain retreat at Tierra Alta, an eco cabin development just outside of El Tuito. Visit the Tierra Alta website.
Originally published on
mexconnect.com