Puerto Vallarta, Jalisco, Mexico - Casa Cupula and Taste Restaurant are proud to announce that we have raised over $25,000 pesos over the last two weeks for SETAC, Puerto Vallarta's Center for fighting HIV/AIDS.
We are still adding the numbers, but here are the minimums so far:
• $6000 pesos from the March 10-17th 'Dine for a Cause'
• $4000 pesos from donations from guests at our Friday Night Warmup Parties
• $2000 pesos match of the above at 50%
• $1,000 USD direct donation from Casa Cupula to SETAC
That adds up to about $2,000 USD or $25,000 pesos. BUT WAIT... THERE'S MORE!
We have also been told by our friends at Broadway Cares/Equity Fights AIDS that they have generously donated another $5,000 USD to SETAC this week. Special thanks to Executive Director, Casa Cupula VIP and friend Tom Viola for expediting this and helping us by providing posters to sell, and Broadway Bares shows to watch.
If you're not in Puerto Vallarta, and feeling left out of the good will, please write us at info(at)casacupula.com, and we'll make it easy for you to make a donation online, which we'll pass along. Or visit setac.com.mx to learn how to contribute to a 501(c)3 from the US, or direct to them online.
---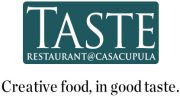 Open Monday-Saturday from 9 am to 11 pm and on Sundays from 10 am to 2 pm, Taste at Casa Cupula is located at Callejon de la Igualdad #129 on the southern shores of Puerto Vallarta, Mexico. For more information, visit CasaCupula.com. For reservations, click HERE, or call (322) 223-2484.


---

The purpose of the SETAC Community Center, located at Constitucion #427 and the corner of Manuel Dieguez on the South side of Puerto Vallarta, is to provide essential services to the community, including physical and mental health treatment, referrals, and education in an atmosphere of safety, free from discrimination. For more information, contact Paco Arjona at (322) 224-1974 or paco(at)setac.com.mx.

Click HERE to learn more about Centro Comunitario SETAC.