Puerto Vallarta, Mexico - This week, Taste Restaurant at Casa Cupula is sponsoring "Dine for a Cause" supporting Vallarta's SETAC and their fight against HIV/AIDS in our community. Through Monday, March 17th, 10% of all sales at the restaurant will be donated to SETAC.
Moreover, when a diner makes a donation to
the SETAC Center
at Taste Restaurant this week, where their representatives will be present nightly from 7-9 pm, Casa Cupula will match 50% of the donation amount - up to a total of $1000 USD.
The SETAC Community Center is a non-profit organization committed to fighting HIV/AIDS in Puerto Vallarta. While they offer HIV testing and counseling, they also have a large and successful program to provide milk for HIV positive mothers to prevent transmission of the virus through breast feeding.
Casa Cupula also works with 'Broadway Cares/Equity Fights AIDS,' so in addition to matching 50% of donations made to SETAC this week, they are also offering a limited set of posters from their Broadway Bares shows, including several signed by original cast, with proceeds benefitting SETAC.
Casa Cupula is an avid supporter of the SETAC Center. They also take up a collection at every one of their 'Friday Night Warmup Parties,' and match guest contributions by another 50%. So far this year they've donated over $10,000 Pesos to SETAC, so stop by Taste to support a great cause, and enjoy a great meal while you're at it.
Taste Restaurant at Casa Cupula features half plate, or "Taste" sizes, of dishes from three different cuisines: Mexican, Asian and Mediterranean, so diners can enjoy a gourmet trip around the world in one meal. Under the direction of Chef Cesar Barajas, the restaurant also offers monthly specials including this month's New York Steak and Duck Magret.
Attentive and respectful service is one of Taste's most important goals. The restaurant is open to the general public, and everyone is warmly welcomed and respectfully treated. Each night the restaurant offers fun events which are listed on their website
taste.com.mx
, where reservations for dining in or delivery can also be made.
---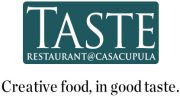 Open Monday-Saturday from 9 am to 11 pm and on Sundays from 10 am to 2 pm, Taste at Casa Cupula is located at Callejon de la Igualdad #129 on the southern shores of Puerto Vallarta, Mexico. For more information, visit CasaCupula.com. For reservations, click HERE, or call (322) 223-2484.


---

The purpose of the SETAC Community Center, located at Constitucion #427 and the corner of Manuel Dieguez on the South side of Puerto Vallarta, is to provide essential services to the community, including physical and mental health treatment, referrals, and education in an atmosphere of safety, free from discrimination. For more information, contact Paco Arjona at (322) 224-1974 or paco(at)setac.com.mx.

Click HERE to learn more about Centro Comunitario SETAC.