Puerto Vallarta, Mexico - There is no better way to show Mom your love than with a delightful dinner in a postcard perfect setting. You can celebrate Mother's Day all weekend long at Daiquiri Dick's Restaurant on Los Muertos Beach.
Executive Chef Ignacio Uribe and Sous Chef Jorge H. Mejia have created a Mother's Day menu with a special selection of appetizers and main courses - plus a complimentary dessert or national drink for Mom - to help you celebrate on Friday, Saturday and Sunday, May 9-11th.
Daiquiri Dick's Mother's Day Weekend Menu
Served from 5 to 11 pm. Prices are in pesos.
Starters
• Asparagus and Spinach Soup with Tequila Cream and Allspice $85
• Roasted Beet Salad with Watercress, Goat Cheese and Candied Pecans $95
Entrées
• Pan Seared Duck Breast with Pumpkin Seed Mole and Green Rice $245
• White Fish Fillet with Pistachio Mole and Risotto $245
• Spaghetti a la "Marco Polo" with Shrimp, Green Curry, Arugula and Tomato $195
Dessert
• Flourless Chocolate Cake with Strawberry Sauce $85
Reserve an ocean view table today, so you can celebrate all the good times you've had and all the great times to come, with that special woman in your life... Mom.
The History of Mother's Day in Mexico
Mom's special day has been celebrated in Mexico since the early part of the 20th century. Mexico's northern states picked up the United States' tradition, and it soon spread throughout the country.
But the popularity of Mother's Day did not truly take hold until an editorial appeared in a Mexico City newspaper along with a widespread media campaign and support from the Catholic Church. All these activities combined helped make this a full-fledged celebration.
During the 1920s, some people in Mexico were becoming concerned that women were being diverted from their primary role of childbearing. Information on contraception was becoming more accessible, and women were beginning to assert their rights in politics and the professional world. In an effort to curb liberal thinking and promote motherhood, the Mexican women's magazine, El Hogar, joined forces with La Asociación de las Damas Catolicas (the Association of Catholic Ladies) to oppose what they saw as a threat to traditional values.
Rafael Alducin, the editor of the Mexico City newspaper El Excelsior, joined the fight and organized the first official celebration of Mother's Day in Mexico on May 10, 1922. Alducin wrote and published an editorial that affirmed the ties between motherhood and Mexico's traditional values.
The celebration soon took on more of a religious tone. The Archbishop of Mexico gave his official sanction to the holiday. Soon, images of the Madonna and Child adorned Mother's Day cards and posters. This was especially significant, because Mexico's patron is the Lady of Guadalupe, and Mother's Day gained almost immediate acceptance in Mexico.
El Hogar announced a beautiful baby photo contest in conjunction with the first Mother's Day, and it was wildly successful. The holiday has grown in acceptance, and now almost every Mexican family honors Mom on her special day which, in Mexico, is always celebrated on May 10th.
Mexican children honor their moms on El Día de la Madre pretty much the same way kids do in the US. Gifts of candy, cards or flowers are the most popular choices, along with telephone calls if you do not live in the same city. In Mexico, the kids take it one step further because schools sponsor programs for the mothers. The children may dance, tell jokes, or sing, for the entertainment of their maternal audience. It ends up being a significant day off from work for a lot of people.
In some Mexican cities, the sound of music starts Mother's Day off on a cheery note. It is the custom to go to mom's house early in the morning and awaken her with a song. Those who can afford it hire trios or Mariachi bands to accompany them, and this is followed by a special mass at the local church.
Celebrate everything your mother has done for you by treating her to a delicious meal at Daiquiri Dick's on Mother's Day. It is just around the corner, so make reservations today!
"Biology is the least of what makes someone a mother" - Oprah Winfrey
Open daily from 9 am to 11 pm, (Closed on Tuesdays from April to October) Daiquiri Dick's offers elegant dining in a relaxed atmosphere for breakfast, lunch or dinner. Visa, MasterCard and Banamex accepted. Reservations are recommended and can be made online at ddpv.com.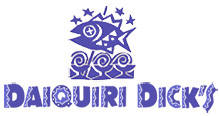 Daiquiri Dick's contemporary design exudes a quiet elegance that invites relaxation, and its tropical location at Olas Altas 314 on Los Muertos Beach offers the perfect atmosphere for enjoying spectacular views of Banderas Bay. For reservations call (322) 222-0566. For more information, visit DDPV.com.
Click HERE to read more about Daiquiri Dick's.