Puerto Vallarta, Jalisco, Mexico - Puerto Vallarta's Spring and Summer months are made for entertaining, but who wants to spend their time standing over a hot stove? Especially now that Daiquiri Dick's is bringing back daily specials that will get you out of the kitchen and on to the beach!
Here are just a few of the reasons that this award-winning eatery is at the top of everyone's 'Favorite Puerto Vallarta Restaurants' list!
Daiquiri Dick's Spring/Summer Deals - Promociónes de Primavera y Verano
Monday - Lunes:
• 20% discount on any food items on the regular dinner menu from 8-11 pm
• 20% descuento en alimentos del menú regular de las 8 a las 11:00 pm
Thursday - Jueves:
• Ladies' Night: 20% discount off your total bill (ladies only)
• Noche de Mujeres: 20% descuento total de la cuenta de su cena
Friday - Viernes:
• 30% Discount in selected bottles of wine with food (minimum 2 persons)
• 30% Descuento en botellas de vino selectas (mínimo dos personas, con su consumo)
Saturday - Sabado:
• 2 x 1 Daiquiris or Margaritas with food (2 person minimum)
• 2 x 1 Daiquiris o Margaritas con su Consumo (mínimo 2 personas)
Sunday – Domingo:
• 20% discount on Classic or Cajun-Style Pescado Vallarta
• Pescado Vallarta 20% descuento, estilo clásico o Cajún
Sunday Brunch - Domingo Brunch
• 2 x 1 Mimosas with your meal (served from 11 am to 2 pm)
• 2 x 1 Mimosas con tu Comida (de las 11:00 am hasta las 2:00 pm)
Every Day - Todos Los Días
• 2 x 1 Margaritas, Daiquiris or Glass of Selected Wines from 3:00 p.m. to 6:00 p.m.
• 2 x 1 Margaritas, Daiquiris o Copas de Vinos Selectos de las 3 pm hasta las 6 pm
*Daiquiri Dick's Summer Specials are not subject to any other discounts, but no matter when you come to enjoy them, you'll also receive one hour of free parking.
*Los Promociónes de Verano no aplica con otras promociones. Una hora de estacionamiento gratis.
Open daily from 9 am to 11 pm, Daiquiri Dick's offers elegant dining in a relaxed atmosphere for breakfast, lunch or dinner. (Closed on Tuesdays through October.) Visa, MasterCard and Banamex accepted. Reservations are recommended and can be made at DDPV.com.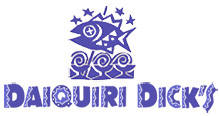 Daiquiri Dick's contemporary design exudes a quiet elegance that invites relaxation, and its tropical location at Olas Altas 314 on Los Muertos Beach offers the perfect atmosphere for enjoying spectacular views of Banderas Bay. For reservations call (322) 222-0566. For more information, visit DDPV.com.
Click HERE to read more about Daiquiri Dick's.