Puerto Vallarta, Mexico - This week all of Mexico will be celebrating Semana Santa, the Christian holiday of Easter. Hundreds of nationals will be in town to celebrate and attend traditional reenactments of the events leading up to Christ's crucifixion.
If you're in town, be sure to stop by the Old Town Farmers' Market-Tianguis Cultural for a whirl-wind of market fun. From live music to international edibles and from exclusive arts & crafts to on-site health services, we've got it all to keep the celebrations going.
And while you're here, be sure to pick up the newest "make it, bake it, grow it" additions from your favorite OTFM-TC vendors.
Cacahuate Carlos - Carlos Valdivia and Lisa Gilroy have added freshly roasted almond butter to their already extensive line of peanut products. Like their all-natural peanut butters, Cacahuate Carlos' almond butter is free from salt, sugar and added oil. Not only is it tasty, it's rich in antioxidants, protein, fiber and monounsaturated fats making it a tasty, good-for-you treat. (322) 181-9355 or Facebook
Los Sabores de Cristy - If you're ready to shake up your Semana Santa menu, Sergio Alpenia's new homemade hummus spread should be at the top of your shopping list. The chef at his family-owned business, Archie's Wok, Alpenia soaks his garbanzo beans overnight, whips up his own tahini and purees the beans while adding olive oil and lime. Flavors include natural, chipotle, extra garlic and cilantro. (322) 151-2105
Panart
- Natasha Moraga of Panart is delighted to add bread pudding muffins to her already popular line of artisan breads and buns. In fact, these serendipitous creations, made from day-old artisan breads and dried cranberries, have been a market hit, exceeding Panart's cinnamon bun sales. Pick up your soon-to-be-favorite snack this Saturday. (322) 122-0199
Zumo Fresh - Carlos Garcia and Mariana Goya of Zumo Fresh get up early every Saturday to select, disinfect and bottle their rainbow-like selection of 100% natural juices made from Mexico's finest fruits. Along with lime, orange, grapefruit and pineapple juices, they've added refreshing mandarin. Good for the mind and body, this sugar-free juice will keep you energized for a full day of Semana Santa fun. (322) 129-7849
And speaking of additions, we are delighted to congratulate vendors Andrea Hernandez and Elias Padilla of India Gate Restaurant on their "newest addition." Welcome, Baby Emma!
Impassioned by responsible food production, entrepreneurial development and the "buy local" movement, our OTFM-TC is a North American style market celebrating the tradition of Mexico's tianguis markets.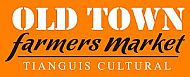 Located in Lazaro Cárdenas Park, kitty-corner to Daiquiri Dick's on Olas Atlas, the Old Town Farmers' Market-Tianguis Cultural is open every Saturday from 9:30 am to 2 pm from the first Saturday in November to the last Saturday in May. For only $10 pesos an hour, you can park in the garage directly beneath the plaza. Or you can take a taxi or public bus, which stops along Pino Suarez Street, just steps from the Market. For more information, visit OldTownFM.com, or on Facebook: Old Town Farmer's Market Puerto Vallarta.

Click HERE to learn more about the Puerto Vallarta Old Town Farmers' Market.