Puerto Vallarta, Jalisco, Mexico - April is National Decorating Month, and it's time to spruce up your home with "make it, bake it, grow it" must-haves from Puerto Vallarta's favorite weekend attraction.
Huichol Art - Deer, cacti, serpents, jaguars, peyote and the distinctive "eye of Gods" - Marcos Martin Jimènez's has them all in his line of distinctive Huichol art. His work reflects the spiritual beliefs of his people through colorful symbols and patterns. Jimènez takes great pride in sharing his people's century-old tradition with new and returning friends to Puerto Vallarta. (322) 132-5862
Isabel Ramirez Woven Goods
- A member of the Oaxaca-based Triqui Ribe tribe, Isabel Ramirez has been honoring her family's 500-year tradition of weaving. She learned the
taller de cintura
technique from her mother and grandmother and is now sharing it with her daughters and granddaughters. "Tethered" to one end of her woven piece, she moves closer to the other end which is tied to a post. When it's time to cinch, she adds it to her selection of bags, shirts, table runners and small carpets.
Adriana Coss Vitrofusion Reciclado - Artist Adriana Coss de Gortari uses Vitrofusión (a high-heat, glass fusion technique) to create unforgettable trash-to-treasure décor. Each piece is hand cut from reclaimed bottles and windows, painted with homemade paints and fused in a kiln. Coss' sun catchers, stained glass ornaments and jewelry can be found at the market and at Entre Amigos in San Pancho. Facebook or (322) 229-9546
Wiki - An architect by trade, Liz Montejano followed her passion to become a wood working artist. She uses high quality custom cut primavera wood to create everything from intricately carved fridge magnets to elaborate boxes. After hand-cutting each piece, Montejano adds an original design, stain and varnish in order to capture the natural whimsy of Mexico. flumont.com
And while you're looking for beautiful home accents this month, be sure to visit OTFM-TC sculptor Patricia Gawle, Color Pod artist Kathryn Graves and glass blower Carlos Rosas.
Speaking of sprucing up spaces, we've done just that in our OTFM-TC "home away from home" - Lazaro Cárdenas Park. We provided financial support to paint the plant pots and neighboring offices. As a thank you, Manuel Dieguez had this to say on Facebook: "The market is an important part of the Neighborhood Association, and we are proud to work with Charlotte Semple & Old Town Farmer's Market - Tianguis Cultural." Gracias, Manuel!
Impassioned by responsible food production, entrepreneurial development and the "buy local" movement, our OTFM-TC is a North American style market celebrating the tradition of Mexico's tianguis markets.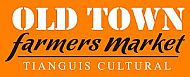 Located in Lazaro Cárdenas Park, kitty-corner to Daiquiri Dick's on Olas Atlas, the Old Town Farmers' Market-Tianguis Cultural is open every Saturday from 9:30 am to 2 pm from the first Saturday in November to the last Saturday in May. For only $10 pesos an hour, you can park in the garage directly beneath the plaza. Or you can take a taxi or public bus, which stops along Pino Suarez Street, just steps from the Market. For more information, visit OldTownFM.com, or on Facebook: Old Town Farmer's Market Puerto Vallarta.

Click HERE to learn more about the Puerto Vallarta Old Town Farmers' Market.