Puerto Vallarta, Mexico - From the ocean to the mountains, spring is in bloom. To celebrate, we are featuring "make it, bake it, grow it" goodies from the earth. That's right, we're highlighting fresh flowers, herbs, produce and woven products that are grown and packaged right here in the Puerto Vallarta area.
Flores E-Vallarta
- Wow your loved ones with a breathtaking tropical floral arrangement fashioned by Flores E-Vallarta. Owners Eder Flores and David Israel have been in the business for over 16 years. They personally select all of their foliage which is grown on family land in the Mascota area. Visit their Puerto Vallarta shop (Mérida 153, Col. Versalles) for additional floral creations. (322) 222-7282 or
ederflores.com.
Hortalizas Palomera - Do your body good with Alejandra Farjas and Jose Luis Palomera's rainbow of herbs, greens and gourmet baby vegetables. These tasty ingredients will add a nutritious punch to your next smoothie, picnic lunch or dinner party spread. And while you're collecting all of your favorite ingredients, be sure to choose from their selection of farm-fresh eggs, handmade tortillas and local cheese (panela, queso fresco and jocoque). (329) 295-0982
Escobas Artesanales de Mexico
- Nothing says "eco-friendly" like 100% handcrafted brooms and brushes. Jean Hnytka of Escobas Artesanales de Mexico gives each piece its own personality with hand selected natural fibers, wooden handles and a full spectrum of shapes and sizes. Add beauty and practicality to your home with an Escobas Artesanales de Mexico original. (322) 209-5220
Luis Romero - Add brilliant color and vitality to indoor and outdoor living with Luis Romero's lush potted plants, flowers and bushes. And don't forget to scoop up a variety of edible herbs. These heart-healthy plants will add a little "giddy up" to your daily activities and a whole lot of flavor to your weekly cuisine. (322) 136-4528
Other must-visit earth-friendly vendors include Cacahuate Carlos (peanut and almond products), Dorwart Whiskey (100% Azteca Maize corn whiskey), Shining Sprouts (lentil sprouts) and One Planet Herbs (tinctures).
Celebrate the beauty of the season with over 80 producer-only products, well-being services and live entertainment. Experience it all this Saturday at the Puerto Vallarta Old Town Farmers' Market-Tianguis Cultural!
Impassioned by responsible food production, entrepreneurial development and the "buy local" movement, our OTFM-TC is a North American style market celebrating the tradition of Mexico's tianguis markets.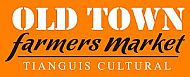 Located in Lazaro Cárdenas Park, kitty-corner to Daiquiri Dick's on Olas Atlas, the Old Town Farmers' Market-Tianguis Cultural is open every Saturday from 9:30 am to 2 pm from the first Saturday in November to the last Saturday in May. For only $10 pesos an hour, you can park in the garage directly beneath the plaza. Or you can take a taxi or public bus, which stops along Pino Suarez Street, just steps from the Market. For more information, visit OldTownFM.com, or on Facebook: Old Town Farmer's Market Puerto Vallarta.

Click HERE to learn more about the Puerto Vallarta Old Town Farmers' Market.