Puerto Vallarta, Mexico - With more and more baby boomers looking toward Mexico as an affordable and attractive place to retire, many US and Canadian buyers are wondering about the mortgage loan options available for foreign investors.
There have always been mortgages for US and Canadian buyers, but over the last decade, mortgage financing for Americans and Canadians purchasing homes south of the border has been gaining in popularity. And, with the rock bottom prices currently being offered on properties in many of Mexico's resort areas, many are looking for ways to finance their dream home.
So, what are the mortgages available in Mexico for US and Canadian buyers?
Two years ago, Scotiabank and Compass Bank were the only remaining US dollar loan options with underwriting comparable to what is available in the US. Unfortunately, both of those banks discontinued those programs, but the Peso mortgage options that Mexican banks have been offering to foreign nationals for over eight years are still available. In addition, one company,
MEXlend
, continues to offer a US Dollar mortgage with quick and easy approvals and closings.
Mexican Bank Peso Loans
In order to qualify for a Mexican bank peso loan, your broker must basically work with you in order to fit their criteria. You must either have or begin the process of obtaining a Mexican visa, opening a Mexican bank account and acquiring credit in Mexico.
Some of this can be eliminated, and your U.S. or Canadian income can be used, if you are willing to provide a 50% down payment. Otherwise, if you plan ahead and work towards the future, you will be able to qualify for a 10% to 20% down payment, but this will take time and patience and careful planning.
If you have the 50% for a down payment, plus closing costs, you will find that the process is not so onerous and you should have no trouble in getting qualified for a loan with a Mexican bank. However, please keep in mind that Mexican banks will not lend to two unrelated persons, so if you are planning on utilizing the credit of two unmarried partners, that will not work.
Also, Mexican banks can and will discriminate for other reasons... primarily age. If you are over the age of 72, you will have trouble obtaining a loan. It pains us to have to abide by these rules, however we have little choice in the matter.
US Dollar Mortgage Loans
One company, MEXlend, has the exclusive rights to a US based mortgage product. The application process is exactly the same as it would be in the US and, in fact, these loans are easier to obtain than any loans in the US are at this time.
The loans are available to all nationalities and they close quickly. The price to be paid for this is a much higher interest rate. However, interest on these loans is tax deductable, they are available for all people no matter their marital status or age, and the lender will provide residential mortgages for LTD and LLC corporations - something no bank will do.
These loans make terrific bridge loans in order to snap up a property at a great price and take a year or so to pay off the note after you line up other financing. What's more, the lender is offering cash-out refinancing for all foreigners and corporations as well. They are aggressively entering the market in Mexico and will at times close on asset-based loans.
Rates are predicted to come down over the next few years, so the possibility of re-financing into another loan is a strong possibility as well. There has never been a better time to buy real estate in Mexico. Over the last several months, the market has started to move, and with deals being struck all over the Banderas Bay area, NOW is the time to purchase the retirement or vacation property of your dreams - and taking advantage of a loan to get you into a great deal is a terrific tool to have at your disposal.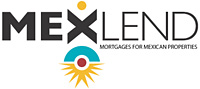 Are you looking to purchase vacation or investment property in Mexico? To discover which one of the many mortgage loan options that MEXLend offers is right for you, visit MexLend.com or MexLend.com.mx, call (322) 222-7377 in Vallarta, toll-free at 1.800.3.Mi.Casa in Mexico or (917) 779-9061 from the US or Canada.

To learn more about MEXlend, click HERE.