Puerto Vallarta, Jalisco, Mexico - If you love to dine out, then get ready because Restaurant Week is just around the corner! And if you love authentic Mexican cuisine, then be sure to visit one of Puerto Vallarta's most popular Mexican restaurants - El Arrayán Cocina Tradicional.
Since opening in November of 2003, El Arrayán has won the hearts and taste buds of Vallarta. "The goal of the entire team at El Arrayán is to prepare the best traditional Mexican cuisine in Puerto Vallarta," exclaims Carmen Porras, owner of El Arrayán. "Along with the creations of Chef Alfonso Corona, this young team endeavors to deliver the best quality food with efficient friendly service along the highest international standards. We love to make people feel at home at our home. Our patron's satisfaction and enjoyment is important to us."
Every year from May 15-31st, Carmen, Claudia Victoria, and their staff present a menu of old traditional Mexican family specialties. And this year is no exception - Chef Corona has created some scrumptious Restaurant Week selections that will exceed your expectations:
Appetizers (choice of one)
• Oaxacan 'Garnachas' - Corn masa with shredded pork and home-style pickled slaw
• Shaved Fish with lime juice, chile pepper powder, avocado, serrano peppers, & cilantro
• Mixed Lettuce Salad with basil, grilled mango and crispy tortillas
Entrées (choice of one)
• Fish Filet with Black Bean-Hoja Santa sauce, roasted creamed poblanos and rice
• Shredded chicken in a mild pepper-sesame seed sauce, with beans and sautéed greens
• Beef Stew with Ancho-Guajillo sauce, and steamed veggies
Desserts (choice of one)
• Merengues - Marinated fruits with homemade ice cream
• Flan de Plátano - Banana Flan
• Nicoatole de Jamaica - Lime-mezcal sorbet
You'll get all of this for only $199 pesos per person from May 15-31. Come enjoy a unique experience full of the flavors and traditions of Mexico at El Arrayán Cocina Tradicional during Vallarta Restaurant Week 2014. (Beverages and gratuity are not included.)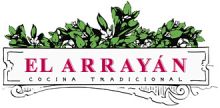 Located at #344 Allende, just a short stroll up from the Malécon in downtown Puerto Vallarta, El Arrayán is open Wednesday-Monday from 5:30 pm to 11 pm. Closed on Tuesdays. Visa, MasterCard and American Express Cards are accepted. Reservations online at ElArrayan.com.mx or by calling (322) 222-7195.

Click HERE to learn more about El Arrayán.